(From Region 6 newsletter)
In the year since Hurricane Harvey struck Houston, the city has been defined by its resilience and strength.
While the majority of the city was back and open for business just a few short weeks after the storm touched ground,
many of the city's neighborhoods and important institutions were deeply affected by Harvey. The Wortham Theater
Center, located in the heart of the Theater District, and one of Houston's artistic cornerstones, is one such institution
that has faced a longer road to recovery. After almost a year of restoration efforts, the Wortham Theater Center
opened its doors for the Theater District Open House on Sunday, August 26, 2018.
A much-anticipated annual event, this year's open house festivities held special significance for the city's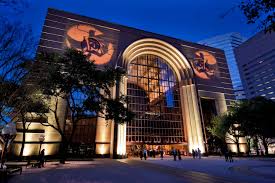 arts groups hosting the event. For the past year, tenant companies Houston Grand Opera (HGO) and the Houston
Ballet have performed in different venues throughout the city, including Resilience Theater, a temporary theater
built in the George R. Brown Convention Center to host the HGO's Fall Season. Finally back in their home at the
Wortham, the open house was an opportunity for artists and art-lovers alike to celebrate a return to normalcy and
generate excitement for the theater's upcoming season of events.
The Wortham Theater Center will open officially for its first performance on Wednesday, September 26,
2018—just over one year since Hurricane Harvey hit. The first performance will feature Placido Domingo, who
performed in Verdi's Aida when the theater first opened thirty years ago. The sold-out performance kicks off a full
season for the theater and Houston's arts groups, who have shown adaptability, creativity, and spirit for Houston
over the past 12 months. The Wortham is back and ready to showcase the best Houston has to offer in arts and
culture.
For more about the Wortham Theater Center: http://www.houstonfirsttheaters.com/Wortham-Center.