By Adam Leposa
One year after the heaviest period of the Zika virus, Puerto Rico's meetings scene is showing signs of growth. Milton Segarra, president and CEO of Meet Puerto Rico, shared with International Meeting Review the very latest.
The destination has been able to start the year with 40 to 60 groups booked, representing over 25,000 room nights.
"Meetings have been, since day one, one of the most important parts of our strategy," Segarra said. The sector currently represents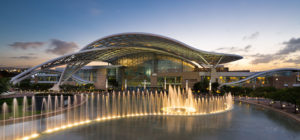 almost 10 percent of the destination's gross national product, bringing $125 to $150 million in economic impact.
The number of cases of the virus came in well before forecasts. While the Centers for Disease Control and Prevention (CDC) had initially forecast a number of cases representing 20 to 25 percent of the island's population, the actual number recorded during 2016 was 37,889, representing just over 1 percent.
"I think there is a new perspective in travel. One of the main areas is, 'How will healthcare impact me while traveling?'" Segarra said. "As the media story [about the virus] developed, all eyes were here."
The destination worked with the CDC and the Department of Health on a series of precautions aimed at controlling the virus, including eliminating mosquito breeding grounds, weekly house inspections, weekly clean-up campaigns and surveillance to track the mosquito population. At the same time, the island also worked to educate planners on the precautions that were being taken.
"It took us a year to educate people," Segarra said. "While there were some cancellations in 2016, we were able to book more groups than the number that had cancelled."
Additionally, some groups that had cancelled in 2016 have opted to return. ICANN, which cancelled its 2016 conference in Puerto Rico, has since rebooked for 2018, bringing an additional 1,500 attendees and 8,406 room nights to the destination.
Looking ahead, the island is set to roll out a number of new product developments of interest to meeting planners. The historic El San Juan Hotel reopened in February after a $60 million renovation with over 25,000 square feet of event space. In the trendy Condado neighborhood, the AC Hotel San Juan Condado recently opened its doors. It has 233 guest rooms, a rooftop deck, bar and pool, and 11,122 square feet of event space spread across eight rooms.
In terms of renovations, the Sheraton Old San Juan hotel just overhauled its 9,000 square feet of meeting space in Jaunary as part of a larger renovation project, which is in its final phases and also includes the hotel's guest rooms, public spaces and pool area. The Verdanza Hotel recently completed a soft renovation of its meeting facilities and added 4,000 square feet of new meeting space, bringing the property's total to 20,000 square feet.
Looking further ahead, early 2019 is the scheduled debut of the District Live! project in Puerto Rico's convention center district. The project includes a new 6,000 seat concert and entertainment venue that will anchor a ne five-acre hospitality and entertainment district adjacent to the Puerto Rico Convention Center. The area will also have a cinema, 170-room luxury hotel with 6,000 square feet of meeting space, a 44,000 square foot plaza with an LED screen that's being billed as the Caribbean's largest, an 18,000 square foot "day and night" disco and an urban zip line.
Adam Leposa is the managing editor of International Meetings Review.