By Maren Dougherty
"The Convention Center is a centerpiece of San Diego's economy. During this pandemic, it will be a centerpiece of our fight against the coronavirus." – San Diego Mayor Kevin L. Faulconer, 3/23/2020
This Spring our San Diego Convention Center went from serving as a bustling economic engine for our region to becoming a temporary homeless shelter for more than 800 individuals through a collaborative San Diego regional effort referred to as Operation Shelter to Home.
This transformation began in March, when our team coordinated with customers on the cancellation or postponement of more than 30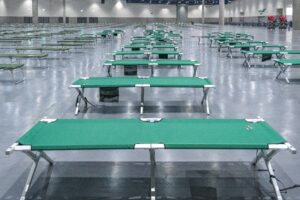 events, with total attendance exceeding 100,000 and a regional economic impact in the hundreds of millions. Like many of our IAVM colleagues, we soon realized we would probably not host a single event in late March or April, and possibly longer.
All the while, our President and CEO Rip Rippetoe, CVE, had been in discussion with San Diego leaders regarding the potential repurposing of our Center as a temporary shelter for individuals experiencing homelessness. We had space, staffing, expertise in planning large-scale operations and outdoor areas that could accommodate equipment such as trailers with showers and laundry facilities. Opening our building for this purpose would allow for greater physical distancing within existing shelters and ensure that more homeless individuals in our region would have access to health services, mental health support and reliable food sources during the COVID-19 pandemic.
"We are taking everything we know and everything we've learned to pivot into a shelter operation—an urgent, large-scale effort to prevent the spread of COVID-19 among our unsheltered neighbors." – San Diego Convention Center President & CEO Clifford "Rip" Rippetoe, 4/1/2020
Our operations staff worked closely with leaders and staff from the City, County, San Diego Housing Commission, Regional Task Force on the Homeless and homeless service providers to create diagrams, staffing plans, policies and procedures for this initiative. Clients and staff would be screened daily by temperature check and verbal questionnaires by homeless service providers or San Diego Public Health Nurses. Everyone would also be instructed to wash and sanitize their hands upon each re-entry into the facility.
The teams decided to move in clients using a phased approach, beginning with groups that were previously living in close quarters at City shelters and then, after assessing capacity, expanding operations to include unsheltered San Diegans. Over one week, April 1 to 7, groups of 150-350 moved in at a time, eventually bringing the total number of clients to more than 800 people across five exhibit halls. Clients are living in exhibit halls C, D, F, G, and H, with Hall E serving as a centralized medical facility.
As you can imagine, uprooting yourself and your belongings from the place you have come to know as your home can be difficult. With the great nonprofit teams, who have created a community and family-like atmosphere within their shelters, the move went smoothly and clients have been adjusting nicely to the new space given these unusual circumstances. Now three homeless service providers—Alpha Project, Veterans Village of San Diego, and Father Joe's Villages—are operating shelters side-by-side in our facility, working closely with the City, County and SDCC on logistics, including meals, most of which are prepared by our food and beverage partner, Centerplate. All clients have access to Wi-Fi, outdoor spaces and projection TVs.
"The Convention Center intervention demonstrates the true impact we can have when innovation, leadership and compassion come together." – Father Joe's Villages President & CEO Deacon Jim Vargas, 4/7/2020
One of the most important pieces to this entire project is the emphasis the operations team will be putting on finding and connecting individuals to permanent housing. The team has identified a number of exit strategies to quickly transition people into permanent housing solutions—ultimately reducing the number of people experiencing homelessness in San Diego.
Maren Dougherty is Director of Marketing & Communications for the San Diego Convention Center.