One of Western Australia's leading media and communications professionals, Graham Mason, has been appointed to the newly created role of Head of Media, Communications and Government Relations at Optus Stadium.
In this role, Mason will help build and maintain the reputation of Optus Stadium and its Operator, VenuesLive WA, leading the day-to-day management of key media and government relationships.
Mason boasts an outstanding CV covering more than 20 years media and government experience, including significant positions in the West Australian media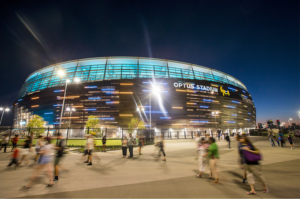 industry across Seven West and 6PR. He also spent a number of years as a senior member of the media team within the former State Government and joins Optus Stadium most recently from NBN Co.
"We are delighted that Graham will be joining the Optus Stadium and VenuesLive WA team," said Mike McKenna, Optus Stadium CEO. "He has an outstanding CV with a background and skillset that will add significant value to our talented team. With over one million fans having already attended events during the first six months of operations, the second half of the year is proving equally successful. 2019 is just around the corner and it's going to be another exciting year for the stadium with a fantastic calendar of world-class events already secured. It is certainly an exciting time to join the team and we are looking forward to Graham commencing in mid-August."
"In a very short time, Optus Stadium has become an iconic landmark in Western Australia," Mason said. "Becoming part of the team that is managing this spectacular stadium is a privilege and I already look forward an exciting year ahead of world class events and showcasing Western Australia to the world via this magnificent venue."
VenuesLive WA was appointed by the State Government as Operator of Optus Stadium in June 2016. The team boasts over 80 permanent staff with a further 2,500 casual staff who support event day operations.