By Ryan Miller
Optus Stadium in Burswood, Western Australia, announced that its brewing partnership with Gage Roads Brew Co.has been extended for a further five years.
The Stadium's brewing experience, showcasing up to six Gage Roads products at General Public bars, has been integral to the development of the customer experience at the Stadium and the new announcement ensures that this world leading experience is maintained until 2027.
"Western Australia's Stadium has proudly served Western Australian beer since 2017 and we are delighted to confirm that will continue," said Mike McKenna, Chief Executive of the Stadium.
"Customer feedback since 2017 indicates that the broad range and quality of product on offer is an important part of the Stadium experience and we're proud to confirm that this will continue to be the case, in partnership with Gage Roads."
Fans have supported the full range of core beers, including Single Fin Summer Ale and Side Track XPA, enjoyed being amongst the first to taste Gage Roads' new releases with Pipe Dreams Coastal Lager being launched at the Stadium last year, and experienced special brews such as the Best Red Ale, brewed exclusively for consumption in the Stadium during the 2019 Manchester United tour.
Gage Roads product will also be available at many of the experiences around Stadium Park including the City View Café, Stadium Park Karts bar and at Christmas Markets.
"We're proud to be involved in a partnership that's delivering a variety of fresh craft beers to local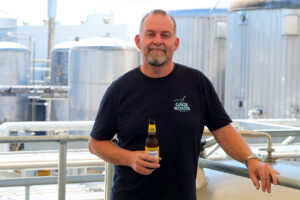 fans," said Gage Roads Managing Director, John Hoedemaker.
"We brew our beer just 14 kilometres down the road from Optus Stadium, so fans will continue to enjoy the freshest beer possible.
"Since 2018, Gage Roads has served more than five million beers to fans at Optus Stadium, across a variety of great sport and entertainment events. We look forward to continuing that in the coming years."
Since the first beer was poured at Optus Stadium at the first event three years ago, Gage Roads has expanded significantly. The Palmyra based brewery has increased their sales 162 per cent, adding 58 jobs and now employing 132 people.
While fans at Optus Stadium have benefited from the growth of Gage Roads, the success of the independent brewer has flowed on to regional Western Australia with Gage Roads now the biggest buyer of WA grown barely, the majority of which comes from the Wheatbelt.
Photo: John Hoedemaker, Gage Roads Managing Director
Please find attached images of Gage Roads Managing Director, John Hoedemaker for publication purposes.
Ryan Miller is with Optus Stadium in Burswood, Western Australia.