By Nadia Vanderhoof, MA
The Orange County Convention Center (OCCC) successfully hosted the Amateur Athletic Union (AAU) Junior National Volleyball Championships under modified operations from July 14-22, 2020. With an estimated 9,600 players, chaperones and coaches in attendance, the OCCC proactively implemented a series of precautionary measures to protect the health and safety of guests, employees, and the surrounding community throughout the duration of the event.
The AAU generated an estimated $12.3 million in economic impact for the community. Fueling local employment,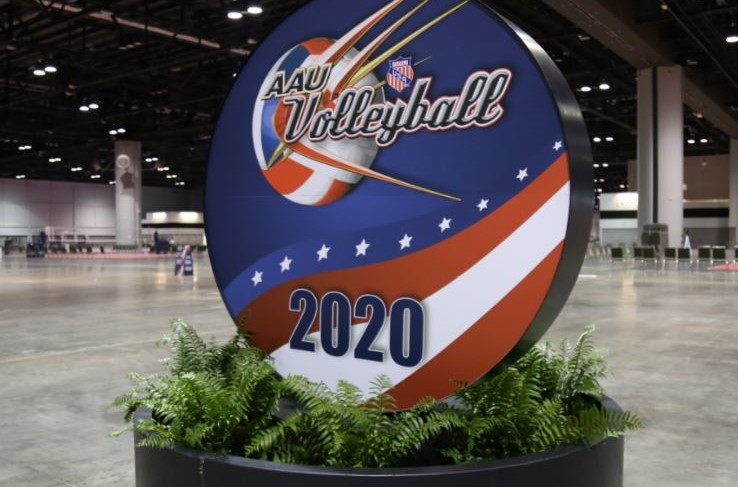 tourism, and commerce, the OCCC is an economic engine for our region. By devising a data-driven strategy, the OCCC is positioned as a model for the industry, demonstrating how it can safely get back to business, and steadily continue our path to recovery.
Returning to the OCCC for the past 19 years, the renowned volleyball tournament has developed a rhythm for success at The Center of Hospitality. This year, planners and organizers developed a strategy to review the entire guest journey with safety in mind, revising all aspects of operations from check-in, to participating, coaching and socializing.
"Providing participation opportunities to athletes in a safe environment has always been the AAU's highest priority," said AAU President/CEO Dr. Roger J. Goudy. "We worked diligently with our partners at OCCC to ensure the highest standards of social distancing and containment mitigation measures were in place for our event. During these unprecedented times, to be able to offer athletes a chance to compete and play safely is immeasurable. Thank you to OCCC for your tireless efforts on the behalf of the Amateur Athletic Union."
Putting its Recovery and Resiliency Plan into practice, the OCCC worked in close collaboration with AAU officials to provide a safe and enjoyable experience for attendees. New protocols this year included no spectators, temperature monitoring during check-in. and mandated face coverings. In line with government guidelines, the OCCC also reduced the total courts and games that could be played at any one time and increased distancing between courts and participants.
As a Global Biorisk Advisory Council (GBAC) STAR accredited venue, the OCCC also demonstrated its ongoing commitment to sanitation. Each evening, OCCC staff adhered to a comprehensive sanitation schedule, in line with GBAC STAR requirements. Additionally, throughout the day, a thorough cleaning schedule was maintained, including sanitation of high-touch areas throughout the OCCC campus, as well as the cleaning of scoreboards and volleyballs in between each match.
"As one of the first venues to resume operations, our success is testament to how modified events can be hosted safely, responsibly and enjoyably," stated OCCC Executive Director Mark Tester. "I thank the AAU for their continued confidence in our center and look forward to working with the AAU in the future."
Photo: The Orange County Convention Center hosted the Amateur Athletic Union Junior National Volleyball Championships under modified operations from July 14-22, 2020.
Nadia Vanderhoof, MA, is Marketing and Communications Manager in the Marketing and Communications Division of the Orange County Convention Center in Orlando, Florida.