By Emily Eades
The Orange County Convention Center (OCCC), in partnership with Orange County Government, hosted an Earth Week celebration showcasing its premier sustainability initiatives and green meeting practices.
During a time in which the meetings and events industry is laser-focused on green initiatives and conservation, the OCCC leads the way in the development of sustainable practices. The Center of Hospitality has continuously pioneered stewardship that models how large venues can contribute to safer, more efficient environments. Sustainability remains a top priority for clients as groups focus on expanding corporate social responsibility practices and green meetings.
The OCCC's Earth Week event gave Orange County employees the opportunity to interact with various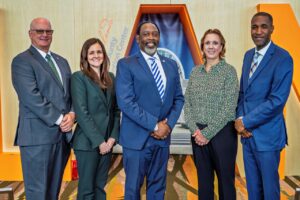 departments, vendors, and partners to learn more about sustainable practices and businesses in the community. Those in attendance included Orange County Environmental Protection Division, Orange County Mosquito Control, Orange County Utilities Department, O-Town Compost, Urban Smart Farms, Honey Frames, Sodexo Live!, UF/IFAS, Grainger, and the OCCC Sustainability Team.
"The Orange County Convention Center is a tremendous leader in green meeting initiatives," said Orange County Mayor Jerry L. Demings. "Together with Orange County Government, the responsible management and conservation of our natural resources ensures we maintain a clean and healthy environment to live, work and raise a family. I am very proud of the Convention Center's contributions toward making our County more sustainable for both our residents and our visitors."
Mayor Demings and Orange County District 6 Commissioner Mike Scott were in attendance to provide a summary of the County and the Center's impressive programs, emphasizing the critical role each department has in making the region a more environmentally safe and resilient place to live and do business.
One of the OCCC's main priorities is its charitable contributions to the Central Florida community through partnerships with several of the region's non-profit organizations. In fiscal year 2021-2022, nearly 23,000 pounds of furniture, lighting fixtures, office and art supplies, worth more than $37,000, were donated to local organizations. These included A Gift for Teaching, West Orange Habitat for Humanity, Ronald McDonald House, Osceola County Public Schools, and Orange County Public Schools. The Center's clients also collectively contributed more than 222,000 pounds in food donations to local non-profits.
"Sustainability is absolutely essential in the meetings and events industry and for years it has been of top importance to our Center," said OCCC Executive Director Mark Tester. "The OCCC sets the standard for what green meetings should look like in the current state of the industry, and we are grateful to our clients for helping us achieve our social responsibility goals."
The Center's innovative sustainability strategies stretch from growing and harvesting more than 44,000 fresh, non-GMO plants, directly from the OCCC's Center-to-Table Gardens, to supporting natural energy by maintaining the largest municipal solar array in the southeast U.S.
Learn more about the Center's pioneering sustainability practices by clicking here.
Emily Eades is Public Relations/Information Officer | Marketing & Communications for the Orange County Convention Center.
Pictured: Orange County Convention Center Executive Director Mark Tester, Orange County Chief Sustainability and Resilience Officer Carrie Black, Orange County Mayor Jerry L. Demings, Sodexo Live! Corporate Director of Sustainability Molly Crouch and Orange County District 6 Commissioner Mike Scott gather to celebrate Earth Week at the Orange County Convention Center