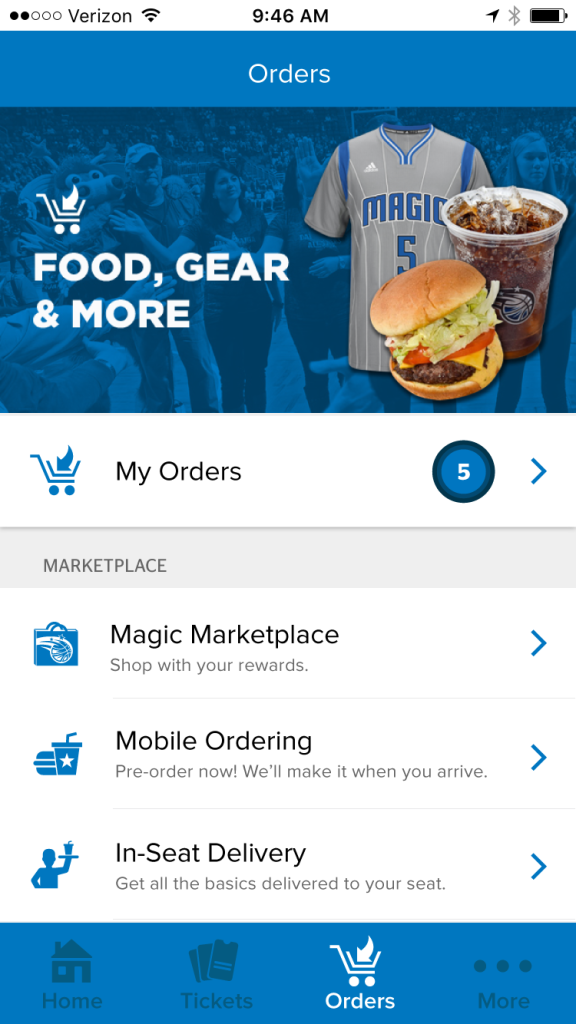 The Orlando Magic announced today that the organization will implement the VenueNext technology platform into the Amway Center, starting with the 2015-2016 seasons. Guests will experience a new version of the Magic's mobile app with services that include mobile tickets, wayfinding, and the ability to order food and drinks from their seats.
"In continuing the Orlando Magic's commitment to our fans and their experiences at Amway Center, we are thrilled to partner with VenueNext," said Magic CEO Alex Martins in a statement. "VenueNext's revolutionary innovation will give our fans the ability to be mobile-enabled for Magic games in the Amway Center. In essence, we are turning our patrons' mobile devices into remote controls for the live experience. We are proud to be the first team in the NBA to launch this application in the fall, as we continue to make our patrons' experience legendary."
The Magic became the first NBA team to offer Apple Pay in December 2014. The organization also installed iBeacons throughout the venue, and was the first NBA team to sign a deal with FanDuel.com.
"The Orlando Magic is one of the most innovative, forward-thinking and fan-focused in the NBA," said VenueNext CEO and Founder John Paul in a statement. "We're excited to collaborate with this team, not only to improve the fan experience, but also to bring new insights to the Magic about the fans attending the technology-enhanced Amway Center."
(Image: VenueNext)