By R.V. Baugus
The state of Florida has become one of the "hot spots" in the United States as it relates to positive coronavirus cases, deaths, and unemployment. The need for medical equipment is great throughout the Sunshine State, and with the NBA season on hold, Orlando's Amway Center is now being utilized as a medical equipment distribution center housing supplies that AdventHealth will use to treat those with the virus.
Local officials are warning that the peak may not occur until the first two weeks of May, making the need for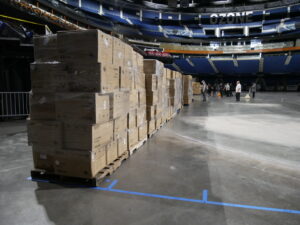 immediate medical equipment essential. With Amway Center serving as a staging area for supplies and equipment, we spoke with IAVM member Allen Johnson, CVE, CPM, Chief Venues Officer for Orlando Venues, to discuss the arena's help during this time of crisis.
What is the Amway Center set up at this time to do in the assistance of the coronavirus pandemic?
Because Amway Center's calendar of events has been cleared through at least May, we've been working with AdventHealth, one of our Champions of the Community partners, to serve as a distribution hub for much-needed medical supplies and equipment for their 50 units. This effort began last week and we've been using the arena floor and other areas of the Event Level to warehouse pallets that arrive daily. The equipment and supplies will be distributed among 50 hospitals in Central Florida and facilities in seven states.
How did this come about and when did the setup take place?
It started with a conversation between Orlando Mayor Buddy Dyer and Daryl Tol, President & CEO of the Central Florida Division of AdventHealth. The initial site visit for logistical and operational purposes took place early last week and the first pallets of medical supplies began arriving a few days later on the morning of Thursday, April 9.
To this point, how has everything gone as you distribute supplies and such?
It's actually been running very smoothly. AdventHealth is overseeing the operation and deliveries are taking place routinely. Much of the inventory goes out for distribution almost as quickly as it comes in. On weekdays we have two shifts of 30 workers each from 6am – 2pm and 1pm – 9pm. We're happy this arrangement has created paid job opportunities for part-time employees of our venue partners.
Any other of the Orlando venues under your oversight helping in any way?
We're finalizing details with the Florida Department of Health to use Camping World Stadium as a drive-thru community test site for west side Orlando residents displaying coronavirus symptoms.
Will you be set up in this capacity for as long as you are needed?
As of now, we're planning to house all the supplies at Amway Center as needed through the month of May. Following that, we have some contingency plans in place based upon when events might start returning to the arena.
It has to make you and your team feel good to be able to assist in some way, does it not?
Because we are City owned and Operated we are an into-woven into our community. It gives all of us a tremendous sense of pride to see how our Central Florida community always pulls together during crises. We've seen it in the aftermath of the Pulse tragedy with the creation of the Family Assistance Center, working with the Florida Department of Children & Families to provide "Food for Florida" and our sandbag operation during Hurricane Irma.
Photo by Kirk Wingerson