By Randy Garner
The Palm Springs Convention Center has produced an informative health and safety video to assist event planners and exhibitors as they prepare for the time approval is received to open. The educational video shows how clients and guests will be welcomed to the Convention Center, how room set-ups will be modified, and options for different size meeting breakouts including classroom and theater seating.
Other elements of the video include banquet seating along with food and beverage changes made by Savoury's, the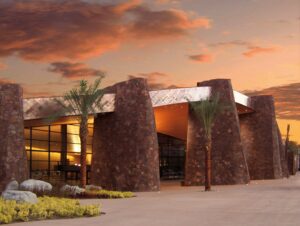 Palm Springs Convention Center's exclusive caterer. Details of signage, hand sanitizing stations, sneeze shields, floor stickers, use of rope and stanchions for flow control, and cleaning procedures are also included. View the video at www.PalmSpringsCC.com
"I am very proud how our leadership team came together and are one of the first in the industry to develop a comprehensive health and safety strategy to successfully open the Palm Springs Convention Center when the time is right," said Rob Hampton, General Manager of the Palm Springs Convention Center and Bureau of Tourism. "We have been busy working with our valued customers to move and modify meetings and events while assisting with implementing the necessary changes that will be required for our modified opening."
As part of the new safety program, the Palm Springs Convention Center is implementing a "Palm Springs Health & Safety Promise." This best-in-class program provides the highest levels of cleanliness and safety, while inspiring consumer confidence, all in partnership with leading medical professionals, industry experts, and public health officials. At the very heart of this effort is a focus on making guests and employees safe and comfortable in a welcoming environment. It provides the most advanced hygienic safeguards to serve clients, guests, staff, teams, and all other visitors.
Randy Garner is Public Relations Manager for Visit Palm Springs.