The past and future for the Performing Arts Managers Conference was served up along with lunch on Tuesday as the conference hit the mid-point of this year's 25th anniversary celebration at the Radisson Blu Aqua Hotel in Chicago.
After Committee Chair Larry Henley gave a recount of the cities that have hosted PAMC and recognized Wenger as a sponsor for the conference's existence, he called on Robyn Williams and Rip Rippetoe to share some experiences from having attended all 25 years.
"At our first one in Chicago in 1992, we had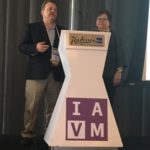 maybe 75 people," Williams said. "We were calling people … are you coming? Will you be on a panel? I had quit smoking and went outside in front of the Chicago Theatre and bummed a cigarette, I was so stressed."
"We didn't even have a budget," added Rippetoe. "We didn't have badges, either. We had the peel ones that said, Hello, my name is …"
As this year's attendance totaled 344, Williams acknowledged that, "This didn't happen because of us. It happened because of you coming back year after year."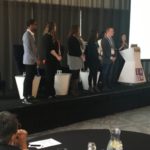 IAVM Director of Development Meredith Merritt praised the sector for making donations possible for five individuals to receive 2017 Joseph A. Floreano Scholarships + Internship Programs. She thanked Ungerboeck Software, WJHW, and Adrian Smith + Gordon Gill Architects for their generous donations toward the scholarships.
PAMC excels at numbers, so it was no surprise when Merritt noted that the group's goal for sponsors this year was $93,000 and was easily topped at $151,480.
After the deserved applause died down, Merritt said that since 1997 the sector has raised $1,233,453, from Professional and Allied members for the IAVM Foundation, a figure representing more than one-third of the total of $3,206,453 raised since that time by all sectors combined.
IAVM Director of Meetings Bill Jenkins concluded with a presentation of the association's conference strategy heading into VenueConnect 2017 from August 7-10 in Nashville. It will mark the next opportunity for the PAMC to be held as all sector meetings now officially roll into VenueConnect.
A video on Nashville then played to wrap up a session in which PAMC was not only celebrated but raises a toast to a proud and thriving sector.