The biography for Peter Sagal, the keynote speaker at this year's Performing Arts Managers Conference (PAMC) from February 26-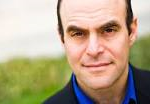 March 1, lists him as an acclaimed radio host, author and humorist. You might want to add salesman to the plaudits as the Chicago resident readily shares what will make this year's 25th annual PAMC a special and memorable one in the Windy City.
"I've been pretty much everywhere in America, but I think Chicago is the finest city in the country," the host of National Public Radio's Wait Wait … Don't Tell Me! unabashedly confides during a telephone interview. "If the weather wasn't so awful, everyone else would think so, too."
See, we told you he is a humorist.
"In terms of one of the reasons that people live in the city, Chicago has got it all," he continued. "It is a huge ethnic melting pot. There are so many communities to be a part of that makes it incredibly rich as a civic body. I have never been in another city with a better arts scene. We have created outstanding civic support."
As a New Jersey native who also spent time living in Los Angeles, Sagal is at home in Chicago and is the host of a radio show heard by more than three million people every week, broadcast on 450 public radio stations nationwide and via a popular webcast. The show received the prestigious Peabody Award in 2008, the same year it celebrated its 10th anniversary.
"The main thing about Chicago in terms of its performing arts scene is you have a tremendous pool of talent and there is enough work here to support them," he said. "It has a great economic balance between actors and artists to perform and live and work here, but mainly it has an audience.
"For example, I lived in Los Angeles for a while. There are a lot of very talented performers there. You might think why aren't they doing more theater? The answer is nobody (hardly) goes to the theater in LA. There's just not an audience unless you are famous at something.
"In Chicago, there is a vibrant and interested and excited audience of people who are not necessarily in the business but just like going out to see things. They support a whole bunch of theaters, large ones, small ones, medium ones. It's wonderful to be in the city where performers are performing not just for their friends or for professional affiliations but for an actual engaged civilian audience."
While Sagal sells Chicago, attendees at this year's PAMC will be sold on Sagal. The interview continues next week with a look at his theater background and lifelong love for the arts.