When Peter Sagal delivers his featured keynote presentation at the upcoming Performing Arts Managers Conference in Chicago (http://www.iavm.org/pama/pamc-home), he will do so from a position of authority about the subject matter.
As the host of National Public Radio's Wait Wait … Don't Tell Me!, Sagal is heard by more than three million people every week,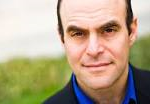 broadcast on 450 public radio stations nationwide and via a popular podcast. Sagal is a renowned radio host, author, humorist, and commentator on current events, yet will never forget his early youth roots spent in the world of theater.
"I was one of those theater kids in high school," Sagal said about his upbringing in Berkeley Heights, New Jersey. "We all had cliques and mine was down by the drama classroom that Mr. Schneider taught. In my era the drama class people and those in plays … we were the misfits. We were the geeky kids, the smart kids. We weren't good in sports and frankly we weren't very good in anything that high school required ranging from dressing correctly to talking to girls. Or talking to a boy, if you were a girl. I would hang out with my friends and my peers, the other strange people who enjoyed performing and plays."
Sagal's self-deprecating humor belies the fact that he wears the arts on his sleeve like a badge of honor. His love for plays and the performing arts helped developed who he is and the visible forum he gets to share today with his listeners.
Sagal attended Harvard University, and has worked as a literary manager for a regional theater, a stage director, an actor, an extra in a Michael Jackson video (Remember the Time), travel writer, an essayist, a ghostwriter for a former adult film impresario and a staff writer for a motorcycle magazine. He is the author of numerous plays that have been performed in large and small theaters around the country and abroad. He has also written a number of screenplays, including an original screenplay that became, without his knowledge, the basis for Dirty Dancing: Havana Nights.
As they say, he knows of whence he speaks.
"I used to talk about this 20 years ago, but I was a playwright long before the Internet culture," he said. "And I said the same thing then that I say now which is that what we are starved for as a culture of people is an actual experience. One of the reasons people love sports so much is that it's happening right there in front of you. You don't know what the ending is going to be, which is more than you can say for these TV shows these days.
"Why do people come out to high school football games or anything? The answer is that you have to be there. It's happening right in front of you. That is an experience that as people we were starved for 20 years ago and are more so now. All this time we spend just staring at our screens and artificial, curated stuff, stuff that was created for us as just observers.
"I have seen some incredible performances and plays in my time and have perpetrated some of them. But I will still say that the best times I have had in the theater matched up against any other moment in my life."
The interview with Peter Sagal continues next week with his thoughts on the future of live entertainment and specifically in the world of performing arts.