Hong Kong Convention and Exhibition Centre (Management) Limited ("HML") announced the appointment of Paul Jeffrey Chandler as its new Director of Food & Beverage. HML is the professional private management and operating company for the Hong Kong Convention and Exhibition Centre ("HKCEC").
As a member of the Executive Leadership Committee, Chandler oversees the operation of HML's Food & Beverage Division. He leads a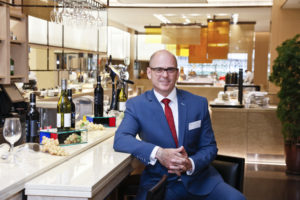 team of 330 professionals responsible for F&B event planning and coordination, along with catering services, the Western and Chinese kitchens, the HKCEC's seven restaurants, and concession stands set up during large exhibitions and other events at the HKCEC. In his role, he will enhance the reputation and service quality of HML's food and beverage services, as well as further raise the quality of guest dining experience.
Chandler has over 30 years of sound hospitality background gained through various senior positions in international hotels in Mainland China, Hong Kong, UK and Australia. Prior to joining HML, he was Director, Food & Beverage Operations of Shanghai Disney Resort, overseeing the preopening plans and daily operations of all in park outlets, hotel restaurants and banquet services. Before relocating to Shanghai in 2012, he held a similar position at the Hong Kong Disneyland for more than three years.
Thomas Tong, Deputy Managing Director of HML, commented, "I am delighted to welcome Mr. Chandler to HML. With his extensive background and achievements in the hospitality industry, I am confident that he will drive F&B innovation and service standards into new heights, and will strengthen the HKCEC's brand image both in Hong Kong and internationally."
During the fiscal year 2015-2016 (July 2015 to June 2016), 2.4 million guests from around the world enjoyed F&B services at the HKCEC as attendees to 400 banquets, patrons of HKCEC's seven restaurants or participants of 1,149 exhibitions and other events, some being the world's largest and most prestigious trade shows.
"I am excited to join the winning team behind Asia's best convention and exhibition centre," Chandler said. "I look forward to working closely with them to meet the high expectations of customers and stakeholders from all backgrounds and nationalities and deliver great experiences to our guests."