By StadiumBusiness.com
Paycor, a human capital management company, has agreed a deal to become the first naming-rights sponsor of Paul Brown Stadium, home of the NFL's Cincinnati Bengals.
As part of the deal, the venue will be officially known as Paycor Stadium. New branding will be integrated throughout the stadium in the coming months.
The Bengals did not disclose terms of the deal, but the Cincinnati Enquirer reported that the agreement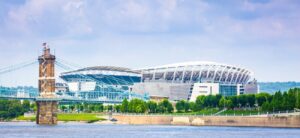 will run for 16 years.
Cincinnati-headquartered Paycor has served as the Bengals' official and exclusive HR software provider since 2018. The company was represented by Excel Sports Management's brand marketing division during the stadium sponsorship negotiations.
Paul Brown Stadium had been one of just three NFL venues without a naming-rights partner, alongside the Green Bay Packers' Lambeau Field and Chicago Bears' Soldier Field.
Reports emerged last month that the Bengals were close to signing a stadium sponsor and a deal has now been struck with Paycor ahead of the team's first regular-season home game against the Pittsburgh Steelers on September 11.
Since opening in 2000, the stadium has been named in honor of Bengals founder Paul Brown, who died in 1991. The Bengals said that Brown's legacy will "live on forever" despite the name change.
Raul Villar Jr., chief executive of Paycor, said: "As Paycor continues to grow and reach customers throughout the US, our mission of empowering leaders to build winning teams perfectly aligns with the defending AFC champions. As long-time fans, this is a big point of employee pride, and we are honored to support our local team and build on the legacy of Paul Brown."
Bengals president Mike Brown added: "This is a move that I think my father would have agreed to. He was always for what is best for the football team. This partnership allows the Bengals to continue to compete at the highest level in the NFL and exemplifies our long-term commitment to the community."
The agreement has been signed after the Steelers last month struck a stadium naming-rights deal with Michigan-based insurance brokerage Acrisure. The 15-year deal will see the venue formerly known as Heinz Field renamed Acrisure Stadium.
In April, Paul Brown Stadium was deemed suitable to remain the long-term home of the Bengals, with the proviso it will require a minimum of $493 million in upgrades, according to the findings of a study by design and architecture firm Gensler.