By Jude-Anne Phillip
In celebration of Earth Month, the Pennsylvania Convention Center released its annual sustainability report. The report provides a summary of the Center's sustainability initiatives and performance over the past year.
"The Pennsylvania Convention Center is fully committed to sustainability and to reducing the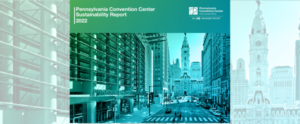 environmental impact of our operations," said David A. Nasatir, Esq., Chair of the Board, Pennsylvania Convention Center Authority. "This past year, our primary focus was on utilizing technology to fully modernize the facility and efficiently manage our energy consumption. In partnership with ASM Global, these efforts have allowed us to effectively do our part to preserve the environment for future generations and enrich the communities in which we serve."
As highlighted in the report, the building automation upgrade to the DESIGO software system, done in partnership with Siemens, was completed in 2022 and has improved the facility's efficiency and HVAC operations. Additionally, several phases of the facility's restroom renovations, escalator modernization, and other upgrades were completed during the year.
"We continue to make significant investments in sustainability and the well-being of all who enter our facility," said Steve Shepper, Director of Engineering and Capital Projects, Pennsylvania Convention Center Authority. "Our ongoing facility upgrades allow us to enhance our health and safety features, reduce our carbon emissions, and focus on providing a welcoming environment for our customers, guests, and workers."
As part of the sustainability drive at the Center, all capital project contractors are required to recycle their construction and demolition (C&D) materials, and the facility reported that 100.62 tons of C&D materials, 10.38 tons of E-waste and U-waste, and 13.45 tons of retired furniture assets were collected for recycling during the reporting period.
Other sustainability goals that were accomplished during the year included the increase of the Center's daily purchase of renewable energy certificates (RECs) to 50%, the achievement of a 60% waste diversion rate, and the reduction of single-use plastics in the venue, all of which form part of ASM Global ACTS, a corporate social responsibility program which was launched in October 2021 by ASM Global, the Center's venue management partner.
"ASM Global has a visionary approach to sustainability," said Tony Hodgins, General Manager, ASM Global. "The company recently unveiled its plan to transform its global venue portfolio into the world's most sustainable, and we are proud to be able to partner with the Pennsylvania Convention Center Authority to implement initiatives that deliver on this goal. The Authority continues to be a steadfast supporter of the ASM Global Acts program, and our collective efforts will enable us to make positive impacts on the environment and in our communities."
Jude-Anne Phillip is senior communications manager at the Pennsylvania Convention Center.