The year was 1990 and Peter Sagal, keynote speaker at this year's Performing Arts Managers Conference, was at the Hollywood Bowl in Los Angeles for a special celebratory screening of Singin' In The Rain.
"The music was by the Hollywood Bowl Orchestra and Doc Severinsen," recalled the noted radio host, author and humorist.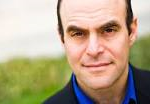 "Wouldn't you know at the end of the screening Debbie Reynolds and Gene Kelly and a bunch of other stars from the movie came out on stage. We were all there, me and 16,000 other people. I've got that. I have that memory in addition to having seen the film on TV a thousand times, which is awesome. That doesn't happen alone on the screen. It happens when you get yourself out and go to some venue and you see a performance."
Sagal gets charged up when talking about his love for performing arts, not just his past memories, but for what the future holds for the industry. In an era when it is easier to stay at home and connect with others via a computer device, Sagal believes there will always — repeat, always — be the need for people to congregate to venues for live performances. It is the spirit of community and the need for socialization, among other things. And it can be literally any event that draws the masses.
"Years ago I was at Universal Studios in Hollywood," Sagal said in calling up another memory. "I went to some ridiculous show. It was like Conan the Barbarian live. It had a stunt man and dragons, fire and sword fights and was ridiculous. It was the silliest thing in the world. But it was really fun and more to the point there were thousands of people sitting in this auditorium who wanted to see the show that day."
Sagal acknowledges the aforementioned distractions that were not necessarily available to previous generations that compete for discretionary dollars.
"There's more competition that distracts people from those presenting live performances … there's just a tremendous amount of competition," he said. "There are so many reasons and distractions to keep people at home but to me that just means that the performing arts and Broadway are just going to have to work harder to attract that audience and up their game."
The good news is that those games are in fact being upped.
"I go to the theater a lot, which is my particular thing," Sagal said. "I see people much younger than I am putting on plays or musicals. Let's take Hamilton as an example. Hamilton is the most exciting thing to happen to theater in years. The reason that has happened is because it's so good. I mean, really excellent. Not only is it excellent by the standards of musical theater but it's excellent by the standards of hip hop and contemporary music. It's a modern kind of sensibility which demands basically more content for the dollar."
Compare that to musicals from bygone eras, which Sagal does.
"Counter that with something like Once Upon A Mattress, which was 60 years ago," he said. "At that time you could do a musical with 10 songs and a really simple story and a couple of jokes and people would flock to it. Now you have to be something like Hamilton in order to get that kind of excitement. But if you can get something like Hamilton, people will come.
"I'm sure a lot of people in your business are like, why can't we just have a concert? Why do we have to have fireworks? There will always probably be in your world room for somebody to come out and just play music. One of the best concerts I've ever seen was Elvis Costello just playing his own songs on a guitar. It was amazing."