Lincoln Financial Group and the NFL Philadelphia Eagles have extended the venue's naming rights agreement another 10 years for the stadium to remain Lincoln Financial Field. The partnership that started in 2002 is one of the longest naming rights relationships in the NFL and will now run through the 2032 season.
The "Linc" has served as home to the Eagles and Temple University's college football team since it opened in August 2003. Under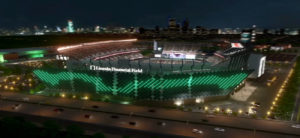 the new agreement, Lincoln Financial Group will have a more dynamic presence within the 69,176-capacity venue with new signage prominently featured in, around, and on top of the stadium.
"We are extremely proud to continue our partnership with the Philadelphia Eagles, which plays a strategic role in elevating awareness of our brand to a wide and diverse audience," said Dennis Glass, president and CEO of Lincoln Financial Group. "Additionally, our team connection has always gone much deeper than just the name on the stadium, and so we look forward to creating even more positive outcomes together that will benefit the local community."
The extension of the relationship ensures that Lincoln Financial Group and the Eagles will continue to partner on community programs such as the Eagles Eye Mobile and Eagles Glasses Lab, which provides underserved children throughout the Philadelphia region with access to eye exams, glasses, and follow-up care annually. To date, this program has helped thousands of students receive eye care that was previously unavailable to them.
In addition to the community partnerships that fund and facilitate the Eagles Eye Mobile and Eagles Glasses Lab, Lincoln Financial Group is a presenting sponsor of the 2019 Eagles Autism Challenge.
"Since the first day of our relationship in 2002, we've shared many great moments at Lincoln Financial Field, including three NFC Championships, a Snow Bowl, countless concerts, and important community events like the Eagles Autism Challenge," said Eagles Chairman/CEO Jeffrey Lurie. "At the end of the day, relationships are what matter, so we are honored and appreciative to have an exceptional partner in Lincoln Financial who continues to demonstrate with this extension a shared commitment to our team, our fans, and the community."