There is still one more year to go, but the work is underway at Philips Arena in Atlanta that will include a courtside bar as part of a $192.5 million renovation. The bar is the first-of-its-kind-idea courtside and will be located within just a few feet of the action.
"We are beyond excited to see construction begin on the new Philips Arena," Hawks' CEO Steve Koonin said in a release. "Every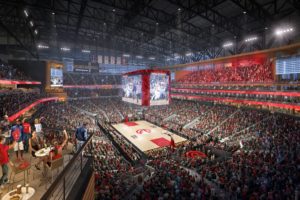 element of the arena under the roof will be brand new and designed with Atlanta and its vibrant communities in mind. Every trip to the new arena will be a great night out and an unbelievable experience."
The bar gives fans an opportunity to enjoy a drink while getting a full view of the action on the court. It is a contrast to most bars at arenas that are located outside of viewpoints of the game in progress.
That's not all.
A restaurant is in the works inspired by musician Zac Brown as well as a golf simulator suite designed by Topgolf.
Need, absolutely need to get a haircut even while you are at the game? No problem. Just drop by the SWAG barbershop as imagined by rapper Killer Mike. That location, too, allows you to get that trim while not missing seeing one minute of game action.
"The ability to partner with Zac Brown and Killer Mike, who are both passionate about their love for the city of Atlanta and wanted to create these amazing destinations inside Philips Arena for the fans, is truly special," Koonin added. "Zac has the innate understanding of how great music and a good meal can enhance any outing. Mike has made a lifestyle business with strong values and important impact locally. How Topgolf has merged the premium experience of play, music, sports and dining into a social phenomenon is remarkable and aligns well with the vision for our arena. We are fortunate to have such talented and innovative partners to help us create a dynamic fan experience that is authentic and appealing to fans of all ages and tastes."
Some of the renovations are less exotic but will be well received as well. The six-level wall of suites that was part of the original design of the venue will be removed and replaced by suites that will allow fans to walk 360 degrees around the upper level of the arena, as stadium seating will be installed above the suite area.
The arena renovation will also feature a widespread technology upgrade that will feature high-definition screens both in the bowl and concourse, with the Hawks announcing that this will be the second-largest renovation in NBA history.
The venue and team is also investing away from the court with a 250-seat master conference room and four breakout rooms that come with the use of touch screen technology and top-level amenities for business operation. The Hawks expect this addition to generate revenue aside from in-game profit.