By nba.com
The Phoenix Suns and Phoenix Mercury announced a transformative new partnership with Oak View Group's (OVG) food and beverage division, OVG Hospitality, to redefine the overall fan experience at all Suns and Mercury games, as well as concerts and live events. OVG's first-ever partnership with an NBA and WNBA venue, this groundbreaking deal further expands the best-in-class experience for Suns and Mercury fans and elevates Phoenix as a premier destination for basketball and entertainment.
"Our commitment is to continue to find innovative ways to invest in our community and put forth our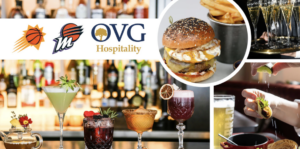 championship mentality in everything we do, on and off the floor," said Mat Ishbia, Phoenix Suns and Phoenix Mercury owner. "From the moment fans walk through our doors, we want every part of their game-day experience to be world-class and something they can only have in Phoenix – the best basketball city in the world."
As the exclusive food and beverage provider, OVG Hospitality brings an experience unlike any other in the Valley to Suns and Mercury games with first-class food and beverage, service and state-of-the-art technologies. Features include premier food and beverage in all clubs, suites and concessions throughout the lower and upper concourses, new technology to ensure faster lines at concessions to allow fans to spend less time in line and more time enjoying the game or concert, and a robust selection of new menu items that will roll out throughout the year.
The partnership is the first in the sports and entertainment industry to feature OVG Hospitality's newly-acquired luxury hospitality and catering company, Rhubarb Hospitality Collection (RHC) – elevating the Suns and Mercury's premium services to unprecedented standards. RHC will create and provide a unique culinary journey for all club and suite guests. From specialized beverages as fans enter the arena and customized food offerings by locally renowned chefs to an elevated wine program for connoisseurs of every variety, fans will be treated to a bespoke culinary experience.
"Every fan should be treated to a best-in-class experience, and that includes providing top-quality food and beverage options and unrivaled service," said Josh Bartelstein, chief executive officer of the Phoenix Suns and Phoenix Mercury. "Through our partnership with OVG we are significantly raising the standards of excellence for our fans and further elevating Phoenix as the preeminent city for sports and entertainment."
As part of its offerings, OVG Hospitality will use locally sourced ingredients to create customized menus specific to each event, making the food and beverage experience unique to the Valley and a reflection of the city's growing culinary scene.
"With high-tech market expertise to diverse local suppliers, OVG Hospitality has all the resources to elevate the experience for all fans, whether at the concourse concession stands or in the luxury suites," said Ken Gaber, president of OVG Hospitality. "We are excited to partner with the Suns and Mercury and add a delicious and savory menu to their roster."