In preparation for the Shenyang New World EXPO soft opening on March 1, EXPO's senior staff completed final training at the Hong Kong Convention and Exhibition Center (HKCEC) in December.
EXPO General Manager Diane Chen is confident that the staff is prepared to meet the demand of EXPO's initial customers.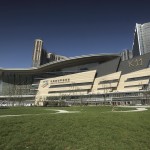 "EXPO's association with HKCEC as a sister venue and our direct access with its senior management team are enormous benefits to EXPO and Shenyang," she said. "Three prestigious exhibitions will be held in March followed by three more in April. This specific training as well as the ongoing training EXPO received through HKCEC during the last many months help to ensure a greater level of professionalism when responding to our clients."
The opening event on March 1-3 will be the DPS Sign & Expo China-Shenyang 2017; the 19th Northeast China International Dental Equipment & Affiliated Exhibition Symposium on Oral Health 2017 will be held March 16-19 followed by the 23rd Northeast China International Building and Decoration Exhibition on March 23-25.
April will be busy beginning with the 17th China (Shenyang) Auto Fair Expo on April 1-4, followed by the 5th China (Shenyang) Wedding Industry Exhibition 2017 on April 8 and 9 and the 19th Northeast China Public Security Exposition on April 20-22.
Cliff Wallace, CFE, chairman of EXPO's professional and private management company, Shenyang New World EXPO (Management) Ltd., remains very optimistic about the regional exhibition market of Liaoning Province and its capital city Shenyang.
"The response by the exhibition organizers and interest in booking the venue is most encouraging," Wallace said. "EXPO's soft opening will continue through September after which bookings are shaping up to be better than expected once EXPO's adjacent hotel and retail and leisure elements open this autumn. We are very encouraged that this venue will be a model for China's second tier markets."