From populous.com
The PGMOL have unveiled the recently created, state-of-the-art VAR (Video Assistant Referee) facility at Stockley Park, near London. The bespoke facility has been built by the Populous EMEA Design and Build team.
The facility includes preparation and debrief areas for pre- and post-match, and a dedicated VAR Hub for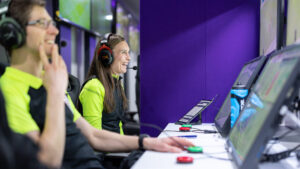 each match being covered by the Video Assistant Referee and Assistant Video Referee, along with an elite conditioning space and a designated recovery area for the officials to maintain their optimum physical training in line with schedules.
Investment through the Elite Referee Development Plan is enabling enhancements across all aspects of refereeing, which includes this new home designed to provide an elite environment for VAR teams to best support the on-field officials.
Following consultation with football stakeholders, PGMOL subsequently worked closely with partners Populous, Instinct Laboratory and IMG on the creation and design, technical, and build of the facility.
Chief Refereeing Officer Howard Webb said: "It's a cutting edge and completely bespoke elite performance facility, an environment where the best possible outcomes can be achieved in the VAR space to benefit the game.
"It's not only the perfect space for our officials to work when they are acting as VAR or AVAR though, there are other areas for our officials to focus pre-game and debrief post-game, whilst there's a gym and a recovery area, as well as a training centre, both for VAR work and for general refereeing development.
"This has been an exciting project to work on with PGMOL. From initial space planning through to the final buildout, we collaborated closely with Instinct Laboratory and IMG to create a bespoke facility that is designed to help the VAR officials perform to their optimum level.
"Good officiating always starts on the field of play, and we expect good performance, but VAR plays its part to ensure that outcomes of games are not decided by clear and obvious errors – we want VAR to be a positive influence."
David Land, MD of Populous EMEA Design & Build group, added: "This has been an exciting project to work on with PGMOL. From initial space planning through to the final buildout, we collaborated closely with Instinct Laboratory and IMG to create a bespoke facility that is designed to help the VAR officials perform to their optimum level."