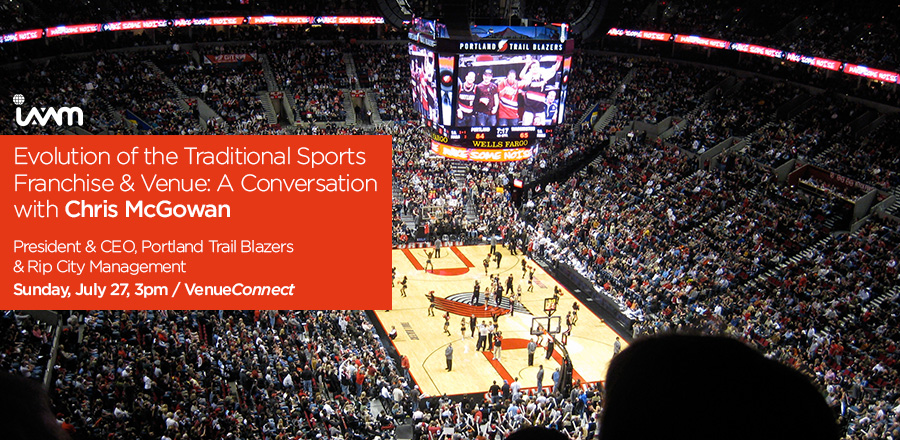 A championship pedigree and skills honed at one of the world's largest sports and entertainment holding companies are hallmarks of Chris McGowan. Named Trail Blazers President & Chief Executive Officer in October 2012, McGowan migrated to the Pacific Northwest from Los Angeles-based AEG Sports, where he spent 16 years, including a final assignment as Chief Operating Officer, before becoming one of the NBA's youngest CEOs.
McGowan, 40, oversees all of the day-to-day business operations of the Trail Blazers, including ticket sales and service, corporate partnerships, premium seating, analytics, marketing, communications, broadcasting, community relations, digital, finance, and human resources. Following a strategic restructuring announced in 2013, McGowan now also oversees operation of the Moda Center, the newly-renamed home arena of the Trail Blazers, as well as the nearby Veterans Memorial Coliseum and Rose Quarter campus. He works alongside Trail Blazers General Manager Neil Olshey and reports to Peter McLoughlin, CEO of Vulcan Sports and Entertainment.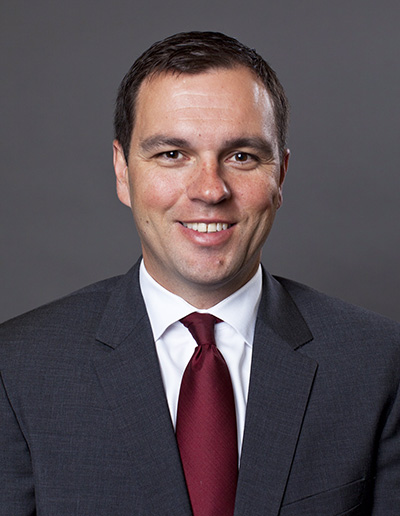 In his previous role as COO of AEG Sports, McGowan oversaw the business operations of the NHL's 2012 Stanley Cup Champion Los Angeles Kings and the 2011 and 2012 MLS Cup Champion Los Angeles Galaxy, while also assisting with operations for all of AEG's sports teams worldwide. In addition to managing the various business departments and revenue streams for the Kings and Galaxy, McGowan was responsible for developing strategies to grow fan bases and enhance fan experiences. He also oversaw all out-of-market preseason games for the Kings, including international games in Salzburg, Austria, and London, England, and nationally in Kansas City, Salt Lake City, Ontario, and the popular Frozen Fury game played in Las Vegas. McGowan also played an important role in the Kings being awarded the 2010 NHL Entry Draft that was hosted at STAPLES Center.
Prior to being named COO of AEG Sports in 2007, McGowan had developed an extensive sports and entertainment sales and marketing background by working on a variety of large-scale events. He managed the premium seating sales efforts for all of AEG's venues in Southern California, including STAPLES Center, Home Depot Center, and NOKIA Theater. Under McGowan's leadership, each of these venues set industry records for premium seating revenue. He was also responsible for sales and marketing efforts for AEG's Southern Californian properties, which included the Kings, Los Angeles Classic (Tennis), UCI Track Cycling at the ADT Event Center, Amgen Tour of California (Cycling), World Championship Boxing matches, U.S. Track & Field Championships, the adidas Track Classic, and various international soccer matches. Additionally, McGowan worked on several special events, including The GRAMMYs, The Latin GRAMMYs, the Rose Bowl, various concerts, awards shows, family shows, and the King Tut exhibit tour. McGowan also assisted in the opening of STAPLES Center in 1999.
The Sports Business Journal recognized McGowan's accomplishments at AEG Sports by naming him to their exclusive "Forty Under 40" list in March 2012. The list consists of the nation's "best and brightest" individuals in the sports industry under the age of 40.
McGowan was named to the Portland Metropolitan Boys & Girls Club's Board of Governors in January 2013. He serves as a board member for the Oregon Business Council, Oregon Sports Authority, and the Young Presidents Organization – Evergreen Chapter. McGowan also serves on the Advisory Council for the Sports Business Institute in the University of Southern California's Marshall School of Business.
A native of Carlisle, Pennsylvania, McGowan was a world traveler in his youth, spending a number of his formative years on military bases thanks to his father's highly-decorated career in the United States Army. He earned his bachelor's degree in International Relations from the University of Delaware in 1996, where he was captain on the soccer team. Chris, his wife Susan, and their two sons, Ryan (10) and Kyle (9), reside in Southwest Portland.
(Top image credit: h.r. williams / Creative Commons)