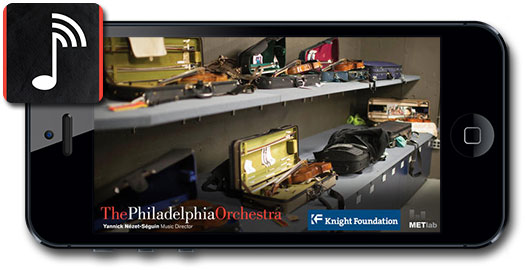 The Philadelphia Orchestra is offering an olive branch to patrons who can't seem to shut down their phones for a performance. Through its LiveNote app, audience members can follow along during a performance with program notes (including vocal text and translations), watch info slides that advance in real time with the music on the phone's screen, and access details and images related to a composition.
"Today, we all are finding ways to merge technology with the things that we love in our lives, including listening to music," said Philadelphia Orchestra Music Director Yannick Nézet-Séguin on the organization's website. "I welcome the opportunity to facilitate this in the concert hall in a thoughtful manner, providing listeners with the choice to use the LiveNote application, or not. It is yet another option for our audiences to appreciate and enjoy the music differently."
LiveNote was developed in collaboration with Drexel University engineers, and the app is designed to mitigate its impact on attendees. For example, the text is grey on a black background in order to minimize light.
While I love the idea of being an active attendee at a classical concert, others may not be so keen.
"The one subscription Philadelphia Orchestra concert at the Kimmel Center's Verizon Hall to use LiveNote so far had 30 percent of the audience downloading the app," wrote David Patrick Stearns for WQXR.com. "But whether because they lost heart or hit a snag (which was this writer's problem), fewer actually used it.
Stearns wrote that only around 18 percent of the audience members at the performance he attended interacted with the app.
"The Philadelphia Orchestra has a rich legacy of being at the forefront of technical innovation, and curating new ideas is part of the very fabric of our organization,"  said Philadelphia Orchestra President and CEO Allison Vulgamore. "LiveNote is the latest initiative to experiment with harnessing the power of technology in service to the power of music, and we look forward to working with our audiences as we test and evolve this long-nurtured application."
Please watch the video below to learn more about LiveNote.
(Image: The Philadelphia Orchestra)