Puerto Rico Convention Center Authority Executive Director Omar Marrero announced that the island's main convention center and Dr. Pedro Rosselló hosted Puerto Rico's National Baseball Team homeland welcome on March 23 after the team received the silver medal at the World Baseball Classic in Los Angeles.
The team didn't win gold but were welcomed home as champions.
A sea of Puerto Rican flags greeted the team when the plane landed at Luis Muñoz Marín International Airport. The display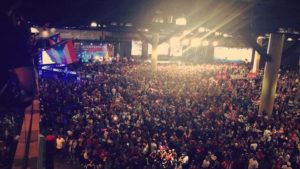 was followed by a press conference where the players and managers received a heroes reception from government officials representing Puerto Rico's Governor, Dr. Ricardo Rosselló, who couldn't be there to celebrate but was present during the team's final game.
After the airport reception, a victory parade led by two large buses headed toward the PRCCA for the welcome ceremony. All throughout the eight-mile route, Puerto Ricans greeted the baseball players by waving flags, chanting, and showing their love and appreciation. Once the parade stopped at the convention center an impressive line-up of local artists, singers, and musical groups entertained more than 12,000 overjoyed locals.
The baseball team showed their gratitude by taking pictures with fans, signing autographs, and addressing the Boricua crowd. "It was a magical night at the PRCCA for the country and its people. This small island is full of talent and pride; the turnout today illustrates the unity of our people and the heart of Puerto Rico," said Marrero Díaz, executive director of the Puerto Rico Port Authority.
The Puerto Rico Convention Center District Authority and AEG invited PRCCA neighbors "Casa De Niños Manuel Fernandez Juncos" (CNMFJ), a non-profit charity that shelters orphan boys, to be special guests at the ceremony. Children from the ages of 8 to 18 were greeted by director Marrero and Jorge Perez, general manager of the PRCCA, who gave them a tour through the PRCC facilities and took them backstage to meet Puerto Rico's National Baseball Team.
"This is a historical moment in Puerto Rico's history, and we are honored to share this memorable experience with the boys of Casa Manuel Fernandez Juncos," Perez said.