For the first time ever, a rainbow flag celebrating lesbian, gay, bisexual and transgender pride, equality, and social rights was raised over the Tacoma Dome Tuesday, July 9.
Tacoma Pride week started Friday, July 12 with another pride flag raising over Tacoma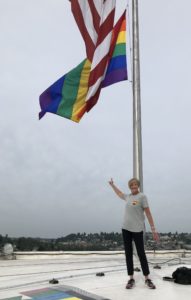 City Hall. The city's annual pride celebration is on Saturday from noon–6 p.m. on Pacific Avenue between South 7th and 9th streets.
In larger cities, such as Seattle and New York, Pride is observed close to June 28 to commemorate the 50th anniversary of the Stonewall riots in New Year City that are considered by many to be the launching point for the modern LGBT rights movement.
Smaller cities, such as Tacoma, hold Pride either before or after to avoid competing celebrations. The flag will fly throughout the month of July — along with the U.S. flag.
Kim Bedier, CVE, City of Tacoma, Venues & Events, Director, Venues & Events is pictured near the raised flag.
For a complete story, click here.