By Billy Warden, GBW Strategies
More than ever, the safety and security of event goers is on people's minds. On Wednesday, June 19, the Raleigh Convention and Performing Arts Complex along with the International Association of Venue Managers (IAVM) hosted the region's first ever all-inclusive Security Day, bringing together competing venues for a greater good, namely guest safety.
Roughly 300 event planners and first responders attended. They reviewed guidelines on how to safely manage large crowds and
discussed best practices for protecting people in any kind of emergency. Specific topics included Situational Awareness and Risk Mitigation, Trained Crowd Management, the U.S. Department of Homeland Security's Stop the Bleed, and Active Shooter Training. All attendees also received a three year Trained Crowd Manager certification.
Raleigh, NC's capital, is home to some of the largest, most popular venues in the state. This includes the Raleigh Convention Center, the Duke Energy Center for the Performing Arts, and the Red Hat Amphitheater, which share an interlocking downtown campus. Combined, the Duke Energy Center and Red Hat Amphitheater offer nearly 11,000 seats, with the convention center able to accommodate up to 22,000 people simultaneously. Not far away, the PNC Arena seats 8,680 for hockey and more than 19,500 for basketball and concerts.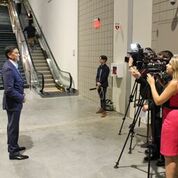 "As venue managers, my team and I are keenly aware of our responsibility to keep our customers and visitors safe," said Kerry Painter, CVE, who signed on as general manager and director of the Raleigh Convention and Performing Arts Complex in December 2018. "We were delighted to host this summit for colleagues from throughout the region, and heartened by their enthusiastic and thoughtful participation."
Supporting sponsors of the event included IAVM, Centerplate, Live Nation, the Durham Performing Arts Center, Cary's Booth Amphitheater, the Durham Convention Center, and American Audio Visual.
Photos by Mary Deifer – Raleigh Convention Center