From stadiumbusiness.com
Architecture firms Ratio and HOK have presented plans for a major renovation project at PNC Arena, home of the NHL's Carolina Hurricanes.
The arena, which is owned by the Centennial Authority, opened in 1999 and also hosts basketball games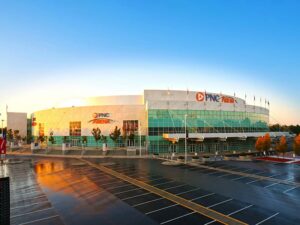 played by North Carolina State University. Ratio and HOK recently presented their vision for PNC Arena to the Centennial Authority.
The News & Observer reports that the plans include new clubs and suite spaces, new offices for the Hurricanes, and outdoor space providing a view of the nearby Carter-Finley Stadium, where the team played an NHL Stadium Series game on February 25.
The plans will now be assessed alongside the CAA Icon agency over the coming weeks, after which point the Centennial Authority will devise a potential budget for any renovation work. The Centennial Authority would then seek money from the City of Raleigh and Wake County to fund any revamp.
Philip Isley, chairman of the authority, said: "This will get us in the right mindset to get some final numbers and go back to the city and county to make sure we have the funding to do what we need to do. We'll continue to work on that over the summer months."
Ratio and HOK valued the renovation costs at $225 million in 2019. Other elements presented by the two companies this week include space for a sportsbook and a new connecting road outside the arena.
In July 2021, the Hurricanes signed off on a five-year lease extension that will see the team occupy PNC Arena until September 30, 2029. The Hurricanes' ownership group, Gale Force Sports and Entertainment, agreed the deal with the Centennial Authority.
The news came after a similar announcement was made in May 2020. At the time, a five-year extension was also agreed, with the Hurricanes stating this granted the team time to assess its options concerning its home.