By R.V. Baugus
Hail Caesar!
And now, hail the iconic Superdome in New Orleans with the announcement that a new naming rights deal will result in the storied venue to become the Caesars Superdome. Toga's optional.
Indeed, the NFL New Orleans Saints confirmed a 20-year partnership with Caesars Entertainment for naming rights to its Superdome stadium.
The deal officially rebrands the venue as the Caesars Superdome. The agreement was confirmed after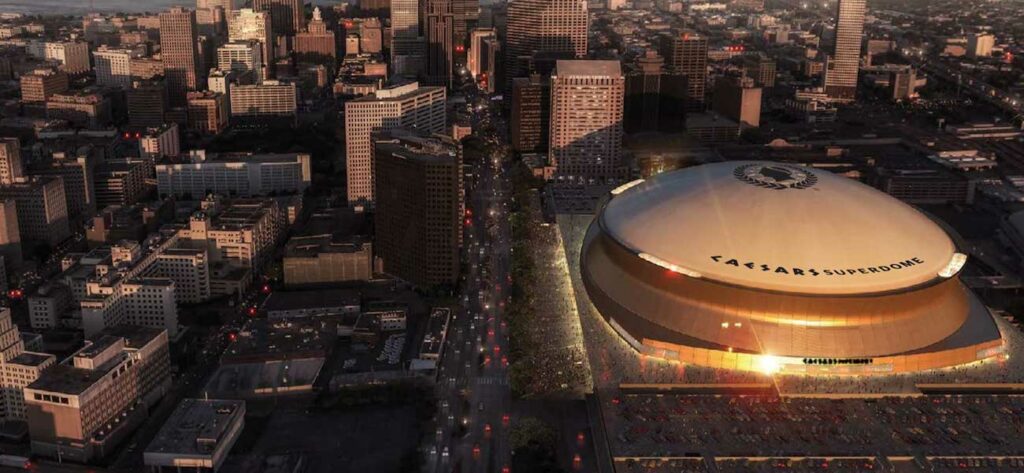 Louisiana state lawmakers approved the deal.
The deal, which was first reported in March, is said to be worth $138 million NOLA.com reported that the money will be paid directly to the Saints as part of the team's agreement with the Louisiana Stadium and Exposition District, which oversees the venue.
Caesars replaces Mercedes-Benz as the naming-rights sponsor of the Superdome. Mercedes-Benz had sponsored the stadium since 2011 but the company confirmed last May that it would not be extending its deal.
In September, the Saints appointed Oak View Group to sell naming rights for the Superdome. It had been hoped that a new deal could be struck by this month, with the Mercedes-Benz agreement having expired on July 15.
Caesars Superdome will host the Super Bowl in 2025, as well as next year's NCAA Men's Final Four, the annual Sugar Bowl and College Football Playoff contests, and a range of concerts and other events.
The Superdome is currently undergoing extensive renovation work worth $450 million ahead of the 2025 Super Bowl and in January the team shared further details on the next phase of improvements. The Saints have pledged to spend the Caesars income on this project.
Saints owner Gayle Benson said: "This partnership sends a strong message about the positive future for the New Orleans Saints. That message states that companies with the global reach of Caesars Entertainment is investing in our city, state and region.
"Caesars has long been one of the world's most respected entertainment companies. Caesars is in the midst of creating a first-class multi-million-dollar entertainment facility in downtown New Orleans, this significant investment also demonstrates the strength of their commitment to our state and region. We are proud to partner with a company that is dedicated to the economic growth of our city, state and region."
Tom Reeg, chief executive of Caesars Entertainment, added: "All of us at Caesars are proud to be part of New Orleans' vibrant culture. We understand that the Caesars Superdome is more than an iconic venue, it's the symbol of a resilient and innovative community.
"We've had a strong relationship with the New Orleans Saints for nearly two decades and we are thrilled with the opportunity to strengthen it and celebrate our commitment to the city, the state, and the entire Gulf Coast region."