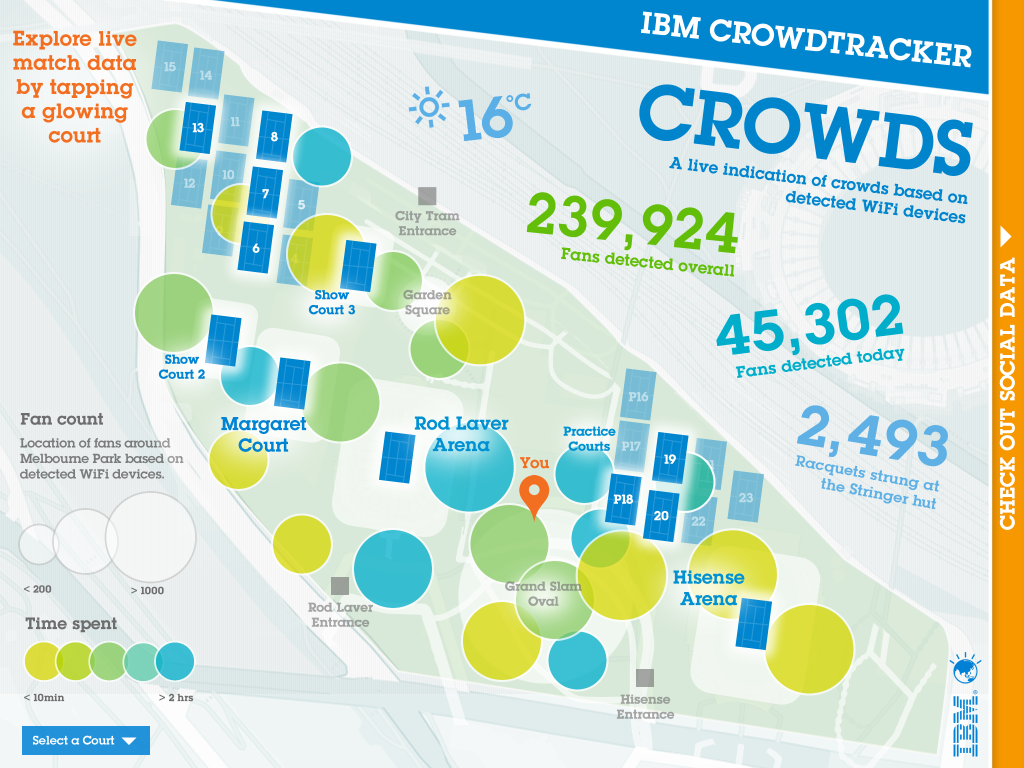 Fans attending this year's Australian Open have access to real-time interactive data thanks to IBM's SlamTracker and CrowdTracker.
SlamTracker, already popular with fans, adds player and ball movement data to its wealth of match information.
"Last year, visualization was mentioned in our feedback from customers, and we've listened to that feedback to provide a better product," Tennis Australia CIO, Samir Mahir, told CMO.com.
CrowdTracker (pictured above) is making its debut at the event. It displays content on a Melbourne Park map, enabling fans to better plan their visits.
"Using the GPS on their mobile devices, fans can see where they are on site and what's going on nearby," IBM said in a statement. "They can see what are the most popular places to be on the grounds, and they can click on individual courts to get the latest scores, stats, player details, and insights. CrowdTracker helps fans follow the tournament and onsite social buzz, providing fans with the latest Twitter stats, most popular Instagram spots, and what is trending on social media."
Mahir says this lets fans know of areas that are popular while giving Tennis Australia a great sense of its customers.
"When analytics is combined with a user interface like this, it allows users to be more engaged with the event, but also provides us with intelligence and information that can help us improve that experience too," Mahir said.
Check out CMO.com for more information on how Tennis Australia and IBM have partnered to create a great guest experience during the tournament.
(Image: IBM)