By Lisa Plummer Savas
The Consumer Electronics Show (CES), the world's largest consumer technology trade show, had yet another record-breaking year. Held at the Las Vegas Convention Center and venues throughout the city Jan. 5-8, the 50th annual event for the global technology industry boasted a 2.6 million net square foot show floor occupied by 3,800 exhibitors and more than 175,000 attendees, including 55,000 from 150 countries. The Consumer Technology Association (CTA) owns and produces the show.
Last year, CES attracted 177,393 industry professionals representing 158 countries and 3,886 exhibitors, spanning 2,475,646 net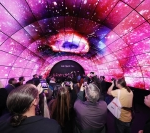 sq. ft. of exhibit space.
As a gathering for the world's greatest innovators, companies, technologies, products and entrepreneurs, the event welcomed the globe's most well-known technology companies, as well as more than 600 startups showcasing the latest in virtual reality, smart home, 3-D printing, self-driving vehicles, robotics, wearables, health and fitness tech, to name just a few categories.
"From startups to established businesses, traditional tech companies, along with those in new industries like travel and sports, (all) came together and vigorously embraced technology for the 50th anniversary of CES," said Karen Chupka, CES senior vice president and corporate business strategy, CTA.
She continued, "This year's show was all about connectivity – both in the form of the technologies unveiled and in the valuable face-to-face business connections happening throughout the show."
In addition to a plethora of speakers, educational sessions and networking opportunities, the event hosted several competitive contests, including the Best of CES awards, the Mobile App Showdown, and the semi-finals for Richard Branson's Extreme Tech Challenge (XTC).
Besides welcoming government officials and political leaders from around the world, CES also drew its fair share of world-famous celebrities from Hollywood, sports, eSports and music looking to check out the hottest trends in tech.
The event's worldwide media coverage continued to be robust, with more than 6,500 members of the media in attendance. This coverage resulted in strong social media momentum, including nearly 1.4 million mentions using #CES2017 hashtags.
"CES 2017 shifted to a new level as large and small companies from around the globe gathered to reveal solutions for many of our world's most challenging problems," said CTA President and CEO Gary Shapiro.
He added, "Our industry is bettering the world through connectivity and innovation, touching literally every facet of our lives. Today's connected world was on full display this week at CES 2017 – our largest, boldest show in history."
CES will return to the Las Vegas Convention Center Jan. 9-12.