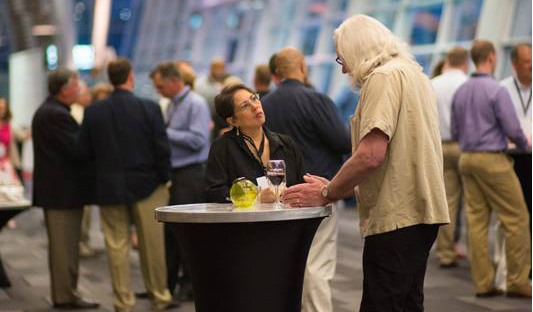 The 2015 IAVM Region 4 Meeting in Tacoma, Washington, April 19-21, was another resounding success. More than 125 attendees and 21 partner companies participated in the outstanding networking and educational opportunities provided over the three days. Drawing from the Pacific Northwest and Western Canada, the conference boasted a broad range of venue types and career levels, from those just started out to stalwart veterans.
Session highlights included a fantastic discussion led by Richard Andersen, CFE, of Lighthouse Management, on leadership styles. Under Andresen's guidance, attendees self-determined their own leadership preferences and learned how they can affect their interactions with others. Steve Adelman led a rousing session on the reasonable actions a venue can take to help limit liability, and Tyler Borders encouraged the group to clearly define their company's brand to help create a more authentic connection with our fans and guests.
The meeting also hosted several panel sessions from some of the region's top minds. Whether it was best practices for EDM security, how to work the political system for capital improvements, or the latest trends in food and beverage, everyone was sure to come away with some great ideas to bring home. Of particular note were two sessions new to the meeting this year. Speed Networking was introduced on the opening afternoon, providing all attendees a chance to meet and interact in a rapid one-on-one setting for three minutes before moving on to someone new. Day Two provided great insight into the future with a fast-paced Pecha Kucha session hosted by young leaders throughout the region. Eight speakers had 20 slides and 20 seconds per slide to discuss their visions for the future of venue management. With these eight at the helm, the future is definitely bright.
As always, the chance to interact and network with colleagues from around the region was a big meeting highlight. Evening receptions hosted by the Greater Tacoma Convention and Trade Center and the Tacoma Art Museum provided beautiful backdrops and a relaxed atmosphere for old friends to catch up and new friends to be made. The annual golf tournament hosted at Chambers Bay Golf Course, home of the 2015 U.S. Open, proved a particular treat for those that participated.
As the attendees headed home, they were sure to leave with a head full of new ideas and inspiration, and a desire to make sure they make it to the next Region 4 Meeting in Seattle, Washington, May 10-12, 2016.