By Alexis Berggren
Director of Event Services, New Orleans Ernest N. Morial Convention Center
The Region 5 Conference is rapidly approaching on April 4-7 in New Orleans. Plan now to be at the Ernest N. Morial Convention Center for the education and networking opportunity of a lifetime.
Sessions will feature a variety of content and speakers aimed at providing value to everyone from the new venue professional to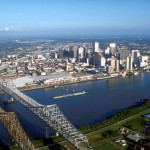 the industry veteran. Topics and speakers will include:
Natural Disasters & Weather Phenomenon
The last calendar year has provided many challenges for areas throughout Region 5: floods in Louisiana, fires in Tennessee and tornadoes in Mississippi, among others. Join us for a panel featuring your industry colleagues and emergency management experts to discuss the impact of these events on their venues and communities.
Panelists:
Doug Thornton, Executive Vice President, Stadiums & Arenas (SMG)
Michael Day, General Manager (Raising Cane's River Center, Baton Rouge)
Pat Santos, Emergency Management Expert (Thompson-Booth, LLC)
Phil Constantin, Department of Homeland Security Advisor, Gulf Coast
Home Grown: Creating & Producing Your Own Events
A panel of venue operators and festival producers will share with you best practices for generating ideas, sourcing sponsors, revenue opportunities and the tips & tricks to executing successful in house events!
Panelists:
Matt McDonnell, Executive Director (Mississippi Coast Coliseum & Convention Center)
Marci Schramm, Former Executive Director, French Quarter Fest
Dottie Belletto, President & CEO (New Orleans Convention Company)
Tim Hemphill, Vice President, Sales & Marketing (New Orleans Ernest N. Morial Convention Center)
Creole, of Course
Creole, of Course is a multi-sensory, multi-media culinary & historical jazz "dinner theater" show to celebrate New Orleans' Tri-Centennial. This exciting program will be featured within the schedule as one of the lunch activities during the conference.
Presentations and keynote addresses from notable figures in the tourism and hospitality industry, including J. Stephen Perry, President/CEO of New Orleans Metropolitan Convention & Visitors Bureau. Perry serves on the board of directors and executive committee of the U.S. Travel Association as we as the US Travel Advisory Board, which is the body that advises national policy as it pertains to tourism.
We will also offer hands-on practical learning opportunities includes IAVM's Situational Awareness and Trained Crowd Manager programs as part of your registration!