Venue Solutions Group (www.venuesolutionsgroup.com), an industry leader in operational consulting to the public assembly facility industry, announced that registration is now open for the 2018 Venue Operations Summit (www.venueopssummit.com). The Venue Operations Summit (VOS), now in its fourth year, will take place in Nashville, TN, Sunday, April 29 through Tuesday, May 1, 2018 at the Nashville Downtown Hilton
Hotel.
VOS is the premier industry conference for public assembly facility operations and engineering professionals. This year's topics include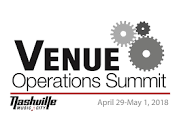 leadership, risk management in housekeeping, vertical transportation maintenance, electrical system management, venue-specific Town Halls, life safety, and much more. Regardless of venue type, attendees can be assured of a program that will provide actionable information to assist them in their facility responsibilities along with very valuable networking opportunities. Keynote speakers include industry veteran Richard Andersen, CFE, who will focus on how to become a better leader.
"We have created a meaningful opportunity for venue operations and engineering staff, employees who are often overlooked when it comes to professional development," said VSG's Managing Partner, Russ Simons. "Engineering, maintenance, event setup, security, and housekeeping are all vital components to a successful venue, and they should have the same educational opportunities as the sales, marketing, premium and
box office staff."
Established in 2015 and held annually in Nashville, Venue Operations Summit fills a special need for shared knowledge, best practices, and networking recognizing an integral workforce element in sports, entertainment, performing arts, and convention facilities. The Summit, spanning three days, includes general sessions and breakouts, as well as tours of local facilities and an Opening Reception for attendees to get to know each other.