Social Finance, a private lender that specializes in refinancing student loans, has reportedly acquired naming rights for the new $5.2 billion stadium in Los Angeles that will be home to the National Football League's Rams and Chargers. The stadium site is in Inglewood near the LA Laker's former Great Western Forum basketball arena.
The new stadium will seat 72,000 and several media and industry outlets are reporting the price tag to be in the vicinity of $20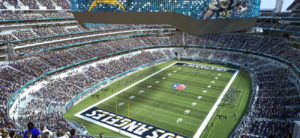 million a year for 20 years.
The reported deal from multiple sources is in financial line with another NFL stadium which has two tenants — MetLife Stadium in New York that is home to the Giants and Jets.
The LA stadium will open in 2020 and has been named host for the 2022 Super Bowl, 2023 NCAA Football Championship Game, and the 2028 Summer Olympic Games, which it will share with the Los Angeles Memorial Coliseum.
As for Social Finance (SoFi), it is a major dip into sports marketing for a company which just last year finalized a deal to serve as presenting sponsor of the Big Ten Conference men's basketball tournament. The company has also sponsored the Pac-12 Conference men's basketball tournament, the Winter X Games and the 2019 NBA play-offs.
The district already has its first tenant in the west coast headquarters of NFL Media, which will occupy 200,000 square feet next to the stadium. Other development in the district to be completed includes retail space, numerous restaurants, movie theater, hotel, and residential property.
SoFi was founded in 2011 and at the time began a business refinancing student loan debt that has grown to now include mortgage loans, personal loans, and wealth management.