John Platillero, founder & CEO of EventBooking, gives a summary of his second week on the "Road to VenueConnect," a series of workshops he and two other EventBooking staff members are hosting in 17 cities across the country. Complete with a company-branded RV, their tour of workshops will conclude at the IAVM VenueConnect conference in Nashville. There, they'll present the insights they've gathered and stories from the road.
We just completed the second week of our Road To VenueConnect trip, and loving all the wonderful people we've met along the way. We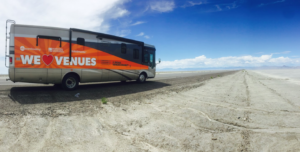 have logged over 3,000 miles so far, and aside from a few hubcaps falling off here or there and a lack of hot showers, the RV is holding up well. What's even better is the fact that my traveling companions, Charlie and Kalyn, have not tossed me off the bus (yet)!
One truth that solidifies with each stop is that it is SO good to meet people face-to-face; to shake hands, see their venue, or in the case of Golden 1 Center—smell their venue (they program distinct scents to be emitted in each of their luxury club rooms). It has been invaluable to meet personnel in various departments and hear how they interact with each other. It's also fascinating to hear the discussion that unfolds between venues of different types and sizes, as they discover commonalities and concerns they all share.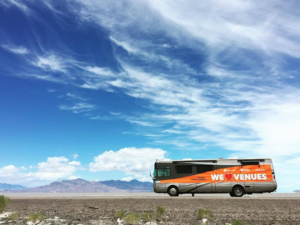 One technological pain-point we're hearing in every conversation is the fact that everyone is buried in email. It's interesting to note that in the evolution of communication, email is what initially saved us from multiple faxes and unnecessary phone calls. In 2017, however, it's the primary mode of business communication and can be overwhelming with multiple threads for small details. Especially in this industry, people create dozens of folders within Outlook and become experts (by necessity) at word searches to try and find what they are looking for (cue the U2 song).
Our gears are turning as a result of each discussion and we are excited to eventually return home to brainstorm ideas for how we can make everyone's day a little better and more simple.
In the meantime, we're making our way to Phoenix, Albuquerque, Oklahoma City, Fayetteville, Memphis and Nashville!
To join us at one of our stops, please visit here.