By Brian Wright
As I look back on my first 10 years in the venue management industry, I realize that the one common aspect of each of my roles has been internships. Heck, I did four of them during college with Finley Stadium, Chattanooga Lookouts, The Ripken Experience, and the Chattanooga Lookouts again.
In both of my full-time roles at Finley Stadium in Chattanooga, TN, as venue manager and Mercedes-Benz Stadium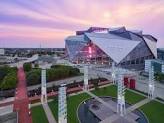 in Atlanta as assistant facility maintenance manager, interns have played a critical role in our operation. In two-and-a-half years at Mercedes-Benz alone, we have had 17 operations interns, and six of them are now working full-time in the organization and numerous others elsewhere in the industry.
It is one of those rites of passages most of us went through to get where we are today and we regularly sit at lunch and tell current interns horror stories of grungy tasks we once had to do. The competitiveness of our industry forces college graduates to take on internships before being considered for entry-level positions. And so, as employers, we know that interns need us to build their resumes and get their career off the ground. But rarely is it discussed how vital interns are to us being able to pull off our events and project schedules during our busiest times of the year, while not killing our budgets with overhead.
Thus, venues must make it a priority to have an internship program that is focused on the individual and developing their experience. Here are a few strategies we have used at Finley Stadium and Mercedes-Benz Stadium toward that effort that I believe can help launch the individual's career:
1. Hire slow and set the tone.
I have been fortunate to live on both sides of the coin hiring wise. At Finley, we were lucky to get 20 applicants, all from UT-Chattanooga, whereas at MBS we have averaged 200+ each hiring period from around the world. Regardless of which category you fall in, the idea is the same: review each resume carefully and look for some relatable experience to pick your interview candidates. Then hire from the interview for attitude over aptitude. As a wise man once said, "You can teach aptitude, you cannot teach attitude."
My first day as ticket operations intern at the Chattanooga Lookouts at age 18, I was taken to the back steps (the ballpark sits on a sizable hill) and set up on a pressure washer. Not knowing how to turn it off (or for that matter on), I continued happily pressure washing all day long. Our owner, Frank Burke, who was also working very hard mowing the hill with a residential push mower (which further imprinted on my first impressions that everyone in this industry works their butt off), noticed me and started calling me Honey Badger, a nickname that I couldn't escape in Chattanooga.
So, to overemphasize the ups and downs of working in our industry I choose to make the first day of our internship program very exciting with tours, meeting people, and generally fun activities. But, the second day I assign a cumbersome task or project to see where their work ethic and attention to detail is. Only one time has an intern walked out on the second day (because he was above pressure washing), but he saved himself the trouble of later finding out this industry was not for him.
2. Welcome feedback and personalize the internship.
Remember what it was like the first day of your first internship when everything in sports and events was sunshine and roses, but quickly reality alters your perspective and you find your likes, dislikes, and questions? It is so important that you provide opportunities for your interns to interact with you one-on-one regularly. This is an exercise we do every two months formally, and more often, informally. It is a good opportunity to keep your interns steered in their right direction and receive open, honest feedback. It is then your job to provide them opportunities to get closer to their passion, as this is where they will be at their best.
3. Provide opportunity for ownership.
Encourage your interns to find gaps in your operation and let them fill those voids. We have created multiple positions at Mercedes-Benz with interns where our initial staffing model fell short. In each of those cases the intern saw an opportunity through open-ended projects with an end goal and a few loose steps to guide along the way and took the initiative to turn it into their own. By the end of the internship, they not only laid the framework for the position, but sold themselves to fill it.
4. DON'T kick them to the curb.
If your company has open positions your interns could be qualified for, try to keep them. But never discourage them from seeking full-time employment elsewhere (even in the middle of their internship) or try to keep them on as an intern after their internship period is up. Both serve a disservice to them. Their goal is to get a full-time job, so if it isn't in the cards at your venue, they should get additional experience elsewhere to get closer to reaching that goal.
Being intern-centric means you will actively help your interns take the next step in their career. The biggest mistake interns and entry-level job seekers make in my opinion is simply listing the job descriptions on their resume. Employers want to see what specifically you accomplished, how you made your venue better through metrics, and what your venue is doing now because of you that they weren't doing before. To be able to do that, Internship program leaders need to provide opportunities to ask questions, take ownership, and provide work in areas they are passionate about. That is when you find out what someone is capable of, and ultimately help them reach their goals.
Brian Wright is assistant facility maintenance manager at Mercedes-Benz Stadium in Atlanta.