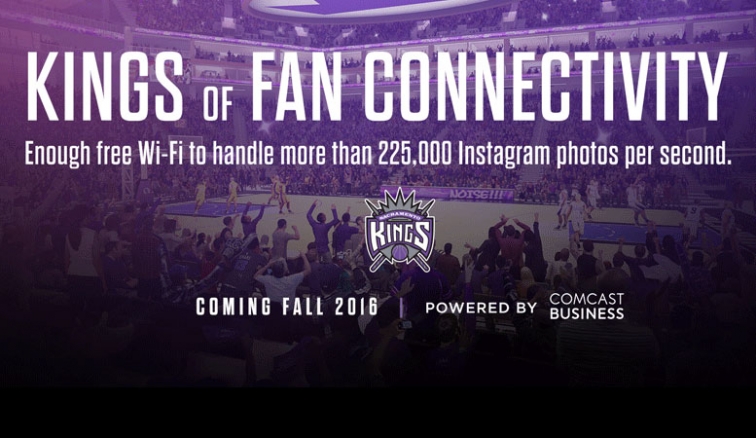 The Sacramento Kings plan to make Golden 1 Center the world's most connected arena by agreeing to a multi-year partnership with Comcast Corp.
"The best fans in the world deserve the most connected arena in the world," said Kings President Chris Granger in a statement. "Our partnership with Comcast enables fans and visitors to share their experiences and connect online seamlessly. It also ensures that Golden 1 Center, the public plaza, and DOCO's connectivity will remain well above industry standards, even as consumer technology improves."
According to the Kings' press release, Comcast will install two, 100-gigabit Ethernet dedicated Internet circuits.
"The services will provide the back-end infrastructure enabling the team to provide free Wi-Fi for fans, power the Kings mobile app, and supply cloud-based voice and unified communications services for team members at the arena and at the team's corporate offices," the press release said. "As a result, the Internet connection at Golden 1 Center, as well as the public plaza and Downtown Commons (DOCO), will be over 17,000 times faster than the average home Internet connection, with the ability to handle more than 225,000 Instagram photo posts per second."
Comcast Business will also provide the in-house video to TV monitors in the arena.
"We're pleased to extend Comcast's ever-evolving partnership with the Sacramento Kings and honored that Comcast Business will allow the fervent fans at Golden 1 Center to experience a live event in innovative and exciting ways, from ubiquitous Wi-Fi to advanced mobile applications and rich video content," said Comcast's Regional Vice President of Business Services for California Ted Girdner in a statement. "This agreement is representative of how Comcast can deliver reliable, high-capacity Internet connectivity for fans, media, and arena team members while supporting various multimedia initiatives by deploying our full suite of consumer and business products."
(Image: Sacramento Kings)