By Kelly Graham
The Denver Performing Arts Complex hosted a Situational Awareness and Active Shooter Training in August to over 300 personnel, including staff, contractors and participants from the resident companies. The Arts Complex partnered with Argus Event Services to bring Mark Herrera, Director of Education & Life-Safety with IAVM, and Paul Villotti, Director of Life Safety with Henderson Engineering, to conduct the two-day training. As part of the program, over 70 staff became certified Trained Crowd Managers.
"The Arts Complex deploys a multi-layered approach to security," said Mark Heiser, Arts Complex Venue Director. "This training supports the baseline position that everyone has some responsibility for safety and security in their day-to-day jobs, not just the security professionals."
A unique addition to the program came from Tricia Zendejas, invited guest from Argus and survivor of the Harvest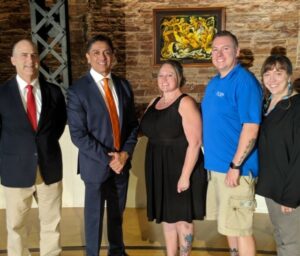 91 Las Vegas attack. Tricia spoke about her experience and provided insight into what venue and event operators should expect when faced with such a situation.
"In many ways, Tricia was the impetus for us to commit to this training with Denver Arts & Venues," said Dave Brower, President and CEO for Argus Event Services.
"Providing this training to staff and stakeholders at the Arts Complex is the first step toward creating a culture of safety," said Ginger White Brunetti, Denver Arts & Venues executive director. "The concept of leveraging guest services interactions as a safety and security technique was a key takeaway."
The Denver Performing Arts Complex is owned and operated by Denver Arts & Venues for the City and County of Denver. The 12-acre site includes the historic Ellie Caulkins Opera House, Temple Hoyne Buell Theatre, and Boettcher Concert Hall, each with their own charm and character. The Arts Complex is home to four signature resident companies: Colorado Ballet, Colorado Symphony Orchestra, Opera Colorado and the Denver Center for the Performing Arts which offers Broadway shows, Tony-winning theatre, cabaret and experimental productions.
About Denver Arts & Venues
Denver Arts & Venues' mission is to amplify Denver's quality of life and economic vitality through premier public venues, arts and entertainment opportunities. Arts & Venues is the City and County of Denver agency responsible for operating some of the region's most renowned facilities, including Red Rocks Park and Amphitheatre, the Denver Performing Arts Complex, Colorado Convention Center, Denver Coliseum and McNichols Civic Center Building. Arts & Venues also oversees the Denver Public Art Program, Create Denver, SCFD Tier III granting process, Arts Education Fund and other entertainment and cultural events such as the Five Points Jazz Festival, Urban Arts Fund, P.S. You Are Here and implementation of IMAGINE 2020: Denver's Cultural Plan. Denver Arts & Venues is committed to equity, diversity and inclusiveness in all our programs, initiatives and decision-making processes.
www.ArtsandVenues.com
Kelly Graham is facilities operations coordinator for Arts and Venues Denver