After more than 25 years as the premier sports and entertainment venue in Salt Lake City, a new era at Vivint Smart Home Arena has begun with a $125 million renovation to enhance the guest experience on all six levels of the home of the Utah Jazz. As a community gathering place, the arena hosts more than 100 events annually with 1.8 million guests.
An illuminated navy, green and gold J-Note statue, measuring 14-feet high and 21-feet wide, welcomes visitors on the plaza before entering the 12,000-square-foot America First Atrium with an exclusive Jazz Team Store, redesigned lower and upper bowl concourses with new fully cushioned seats in the bowl, and destination dining restaurants.
While no events were held in the summer of 2017, the facility was still abuzz each day as more than 2,000 workers participated in the project,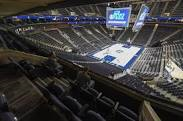 demolishing concrete walls, removing all the green plastic chairs and building new dining, club and social spaces. Salt Lake City-based Okland Construction served as the general contractor for the project with valuable work from 78 subcontractors.
The atrium is the location for the box office, Utah Jazz Team Store full of unique arena-only merchandise and memorabilia, and easy access to the Toyota Club on level two and the suites on level four. Concourse walls have been removed for the creation of a new porch that gives fans a full view of the lower bowl. What they're seeing is an ocean of blue with the iconic green plastic chairs being replaced by fully-cushioned seats in both the lower and upper bowls.
Fans are able to taste another change. A multitude of food selections – more than 30 restaurants and vendors – have created destination dining with a lineup of new culinary choices. The four corners of the main concourse at Vivint Smart Home Arena feature specialty menus with barbecue from R&R, hand-tossed pizzas from Maxwell's, Mexican food from El Chubasco, and gourmet hamburgers and signature beef sandwiches from Cubby's.
Technology has also been deployed to enhance the guest experience through a new mobile Jazz + Vivint app, high-speed public Wi-Fi, cloud-based technology and predictive analytics. More than 400 televisions are located throughout the arena, providing information, directions and a constant eye on what's happening on the stage or court.
Originally opened as the Delta Center on Oct. 7, 1991, the building was known as EnergySolutions Arena from Nov. 20, 2006 until being renamed Vivint Smart Home Arena as part of a 10-year agreement announced on Oct. 26, 2015.
Construction began on June 11, 1990 and was completed in record-time—15 months and 24 days later, at a cost of $66 million.