By Maren Dougherty
The San Diego Convention Center Corporation announced the 2021 officers of its Board of Directors. Hospitality executive and entrepreneur Elvin Lai will serve as Board Chair.
"My top priority as the incoming Chair is to build and execute a strategic recovery plan," Lai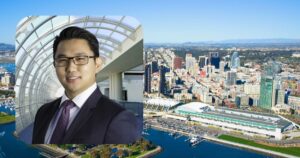 said. "Knowing the vital role the San Diego Convention Center plays in our region's economy, I am dedicated to ensuring the sustainability and success of this organization for our community's benefit."
Lai assumes his leadership role during the COVID-19 pandemic, with SDCC continuing to serve as an emergency shelter in support of Operation Shelter to Home to assist individuals experiencing homelessness. In addition to serving as a shelter since April 1, 2020, SDCC has supported other essential activities, including hosting a super polling location for the 2020 Presidential General Election. With the distribution of vaccines now underway, industry professionals expect convention activity to resume this year.
"2021 will be a critical year as we prepare to safely reopen. We are encouraged by the interest we continue to hear from meeting planners and attendees about returning to in-person gatherings, and we are prepared to evolve aspects of our operations to meet new guidelines and expectations," said Rip Rippetoe, CVE, SDCC's President and CEO as well as IAVM Chair. "With our capable and innovative team of staff, board members, and partners, I believe in our ability to rise to challenges and return to our primary role as an economic engine for San Diego."
Maren Dougherty is Director, Marketing & Communications for the San Diego Convention Center Corporation.