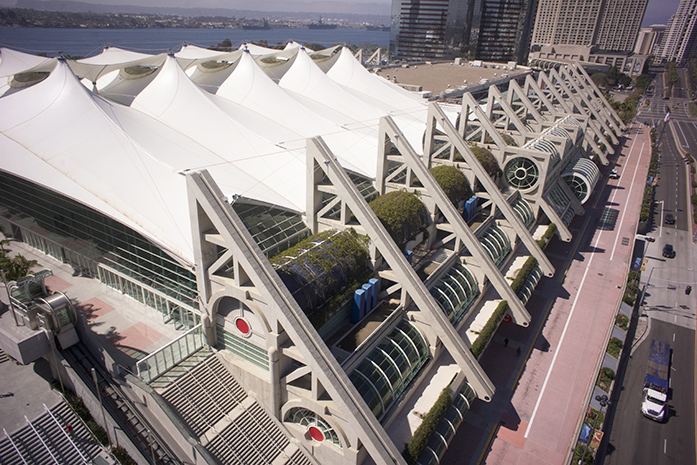 The San Diego Convention Center's famous Sails Pavilion is one of many $25.5 million in capital improvements approved by the California Infrastructure and Economic Development Bank (IBank) Board of Directors on June 28, 2016.
"I am very proud of the collaborative efforts of all the parties involved," said Laurie Coskey, chair of the San Diego Convention Center Corporation [SDCCC] Board of Directors, in a statement. "Collectively, the State, the City, and the Convention Center staff and Board of Directors all came together and through cooperative teamwork, created a responsible funding plan that will pave the way for significant improvements of the facility. This historic investment will begin the upgrades of the San Diego Convention Center, a long-serving economic driver. We look forward to sharing the planned improvements with our clients, as we continue to give them more reasons to come back over and over again, to reinvest further in San Diego."
Eight capital improvement projects funded by the IBank loan include escalator modernization, updating fire- and life-safety systems, installing new cooling towers, and rejuvenating the Sails Pavilion.
"For more than 25 years, the San Diego Convention Center has served as a gathering place for organizations, associations, and members of the San Diego community to meet and share ideas, experiences, and knowledge," said SDCCC President and CEO Clifford "Rip" Rippetoe, CFE, in a statement. "We are honored to provide a space that allows so many to come together and we look forward to upgrading our facility so that we may continue providing our guests with an outstanding experience."
(Image: San Diego Convention Center)