By Barbara Cosio Moreno
San Diego Theatres, Inc. (SDT), which operates and manages San Diego Civic Theatre and the historic Balboa Theatre, has announced a new addition to its leadership team.
Kelly Bargabos (left, in photo) joins the organization in a new position, as Chief Financial Officer and Chief Operating Officer. She will serve alongside Carol Wallace, the President & CEO of the San Diego Theatres.
Bargabos was most recently the Vice President Finance for Road Runner Sports, a multichannel retailer of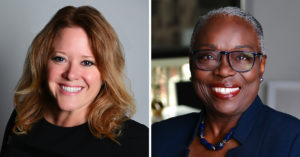 specialty footwear, apparel and accessories based in San Diego. After earning her CPA in New York, Kelly's successful career has included roles in both finance and operations in a variety of industries and organizations.
"I am excited to join the dynamic team at the San Diego Theatres," Bargabos said. "I have great respect for the arts community and look forward to working collaboratively with the Board of Directors and staff to affect change and drive results."
Bargabos believes in giving back to the community, serving in volunteer capacities with organizations working on global and local issues such as poverty and homelessness, as well as programs dedicated to children. She is also a published author.
"We are excited to have Kelly join us," said Jim Waring, Chair of the SDT Board of Directors. "Her diverse skillset will serve the organization and the community well as we set strategic goals that will deliver on our commitment of providing top-tier performing arts for the San Diego region."
Wallace became SDT's President and CEO in July 2018. She was previously President and CEO of the San Diego Convention Center Corporation until 2015. Under her tenure, the Corporation oversaw the operations of San Diego Theatres, Inc. until 2012 when SDT became an independent 501(C)(3) non-profit.
Barbara Cosio Moreno is Director of Communications & Marketing at San Diego Theatres