By Barbara Cosio Moreno
The stage of the San Diego Civic Theatre was transformed into a classroom for important security, safety and crowd management training.
On Thursday, January 16, 2020, Mark Herrera, Director of Education and Life Safety for the International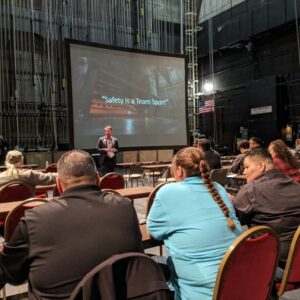 Association of Venue Managers (IAVM), and Greg Overstreet, Director of Security at Mercedes Benz Stadium in Atlanta, led a "class" of 150 in situational awareness and venue security.
Organized by the staff of San Diego Theatres, which manages and operates the Civic and Balboa Theatres, along with partner presenter Broadway San Diego, the day-long training brought together attendees from the San Diego Opera, San Diego Gay Men's Chorus, Classics 4 Kids, CSC Security, the San Diego Concourse, Horton Plaza Mall, the San Diego Downtown Partnership, Pechanga Sports Arena, SDSU Viejas Arena and IATSE Local 122.
"Preparedness beats paranoia," said Herrera. "I am proud to see that the San Diego Theatres team, its key stakeholders and partners, are investing the time to collectively and collaboratively strengthen their security posture through community wide training. It's an honor to deliver this training to an awesome group of dedicated professionals with a passion to make their respective environments safe."
Herrera has completed over 300 live training programs throughout the United States, Mexico, and Canada for all venue types to include key stakeholders from their respective communities. The course is designed to enhance situational awareness by providing training to enhance mental preparation, response and mitigation to safety issues.
Overstreet led the class to earn their Trained Crowd Manager certification. He was able to supplement the lesson through real-life scenarios and examples he's experience in his role as a security director.
"Having someone of Mark Herrera's caliber training us on situation awareness and plans of actions helps our staff serve San Diego better," said Brendan Farley, Director of Operations for San Diego Theatres. "This training from IAVM provided an opportunity to have our C-level to our front line event staff on the same page. The reality of today's safety and security is our team – our staff, our clients, and our neighbors – needs to be informed, engaged and involved when and if a situation arises."
San Diego Theatres is a 501c3 nonprofit arts organization that manages, markets, operates and maintains the San Diego Civic Theatre in the heart of downtown and the historic Balboa Theatre in the Gaslamp Quarter. Our mission is to deliver exceptional performing arts and educational experiences, foster collaboration and partnerships, and create an accessible place for all people to enjoy the arts.
Barbara Cosio Moreno is Director, Marketing & Communications for San Diego Theatres.