Carol Wallace, President/CEO of San Diego Theatres, announced the promotion of Brendan Farley to the position of Vice President of Operations. Farley has been with San Diego Theatres for more than six years and joined the team as Director of Operations. In that role, he oversaw Front of House and Food and Beverage. Later, he assumed responsibility for the Public Safety, Production, and Engineering departments.
Farley's career in the performing arts industry has progressed from onstage, back of house, front of house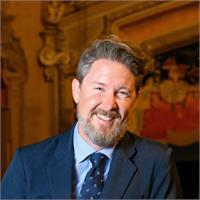 to venue management. After earning a degree in Acting from Ithaca College, Farley worked with theaters in Chicago and New York City as both an actor and a technician. He got his start in the venue management industry in the concession stands at the Oakdale Theatre in Wallingford, CT in 1998. Farley and his wife Katherine moved to San Diego in 2007. In San Diego, Farley worked with the Lamb's Players Theatre in Coronado. With the support of their incredible team of artists and creators, he progressed through the roles of Shop Foreman, Technical Director, and Director of Systems and Production.
Since joining San Diego Theatres, Farley has continued to be a leader in the performing arts and venue management industries. He has represented San Diego Theatres on several industry committees with the IAVM. Currently, he serves as the performing arts representative on the Venue Safety and Security Committee (VSSC), Chair of the Performing Arts Safety and Security Sub-Committee (PASS), and led the Performing Arts Working Group to assist venues to achieve their GBAC Star Certification in Biohazard Mitigation in response to the COVID-19 health crisis.
In his new role, Farley will continue to oversee the Operations Department and work directly with the dynamic San Diego Theatres team to create moments that matter for the stakeholders of the Civic and Balboa Theatres. He will continue to serve as the key contact for the City of San Diego Departments and represent San Diego Theatres on the Board of Directors of Downtown San Diego Partnership's City Center Business District.