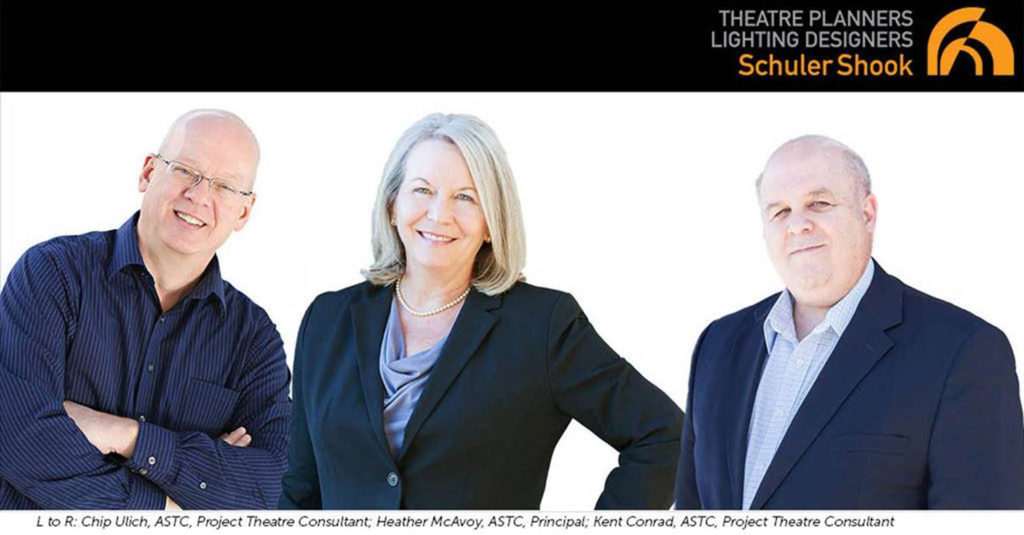 Schuler Shook announces the opening of its San Francisco Bay office and addition to its California team. The office is the natural product of Schuler Shook's active presence and ongoing work in California and will help provide local expertise to our clients in the region.
Schuler Shook's new office comprises a group of highly experienced and respected designers, including Heather McAvoy, ASTC, Principal; Harold "Chip" Ulich, ASTC, Project Theatre Consultant; and Kent Conrad, ASTC, Project Theatre Consultant.
Recent and current projects in the office include Stanford Memorial Auditorium and Pigott Theater Renovation, Madera Unified School District Theater, Sacramento Memorial Auditorium, Crested Butte Center for the Arts, and River Spirit Casino.
Chip Ulich has been a theatre consultant at Schuler Shook for ten years, planning and designing theatres for scores of clients. He is currently the Project Theatre Consultant for Crested Butte Center for the Arts in Colorado and Oklahoma State University McKnight Center for the Performing Arts. Chip is also the Vice President of the American Society of Theatre Consultants and has served in that capacity since 2015.
Joining Chip in the firm's new San Francisco Bay office are Heather McAvoy, ASTC, and Kent Conrad, ASTC.
As a Principal at Schuler Shook, Heather is in charge of the office, applying her 30 years of experience in theatre consulting with another firm. She is a recognized leader in theatre planning and consulting, emphasizing collaboration and creativity in her approach to each project. She is also active in the industry as a Board member of the American Society of Theatre Consultants. Her theatre projects include the recently opened Roble Gym Complex Renovation at Stanford University, Thomas Theatre at Oregon Shakespeare Festival, and Lesher Center for the Arts in Walnut Creek, CA.
Heather says, "Joining Schuler Shook is a great opportunity for me to bring more resources to my clients. I enjoy the collaborative environment at Schuler Shook, and I'm looking forward to this next chapter, working with my clients to solve their theatre needs."
Kent Conrad's background in theatre and performing arts is deep. He has served as production manager for the Arizona Theatre Company, American Theatre Company in Aspen and the UCLA department of Theater, Film and TV. For Walt Disney Entertainment, he consulted on two venues for Tokyo DisneySea theme park and was technical director for the initial shows. He is a scenic and lighting designer and brings those sensibilities into the theatre planning process. His theatre projects include Bakersfield College Performing Arts Center and Amphitheatre, Riverside City College Concert Hall, and Craterian Theatre at the Collier Center for the Performing Arts in Medford, OR.
Firm Partner Todd Hensley, ASTC, comments, "We're excited to have Heather and Kent joining Chip in our California office. All three are great people to work with, very collaborative and collegial team members. Heather and Kent each bring incredible theatre planning experience and systems design expertise to our practice."
Schuler Shook's San Francisco Bay office is the firm's fifth, joining their offices in Chicago, Minneapolis, Dallas, and Melbourne, Australia. Firm Partner Jack Hagler, ASTC, says, "This is an exciting time of growth that builds on our years of work in California, the Pacific Northwest and the region as a whole. The new office will allow us to support projects more robustly, as well as help us maintain the level of close client involvement and collaboration that we are known for."