To the victor go the spoils!
Scotiabank Arena, home to the NBA champion Toronto Raptors, is set to undergo a multimillion dollar "reimagination" to improve the fan experience.
Michael Friisdahl, president and chief executive of Maple Leaf Sports & Entertainment, which owns the 19,800-capacity arena, said the championship success is "motivating" them to "keep improving the experience."
Home also to the NHL Maple Leafs, Scotiabank Arena held a record number of events in 2018 with more than 110 live shows over and above NHL and NBA games.
"We've got to keep getting better, we've got to keep improving the experience," Friisdahl told the Canadian Press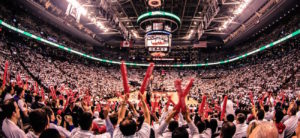 new agency. "We won a championship – we've won four championships in the last three years. That, if anything, motivates us to do even more. Eventually when it's all said and done, you will notice that everything will have be touched in one way or another to improve the overall (fan) experience."
Friisdahl says MLSE's investment is to ensure the arena is both a "gathering place" for fans but also a destination in the city.
A pedestrian bridge that will connect a new second floor to the galleria on the north side of the arena is currently under construction. Improvements to the galleria are scheduled to be complete in the next 12 months, and is part of a larger plan that will take four to five years.
The arena also has plans to install a new video board, which is 40 per cent bigger than its current screen. Scotiabank Arena will also add smaller video screens added near the west entrance of the galleria. The arena is getting new digital Scotiabank signage that can light up in different colors.
"We're going to step that up another notch. There isn't a stitch that isn't being retouched in here," Friisdahl said.