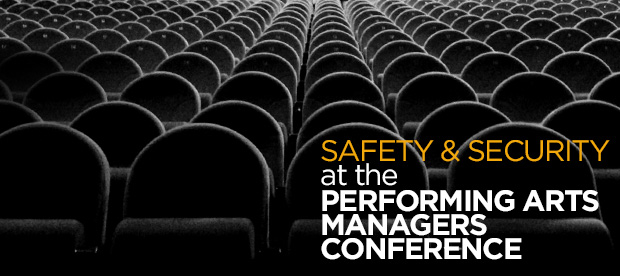 Safety and security has emerged as a top focus at this year's Performing Arts Managers Conference (PAMC) in San Antonio, March 7-9, with new opportunities for attendees to participate in dynamic learning experiences and expert-led discussions.
"Our goal is to provide an engaging, interactive experience at the Performing Arts Managers Conference. The 2016 program will include situational awareness, resources available to protect our public facility assemblies, and relevant expertise regarding critical infrastructure protection, mass casualty incidents, and staff preparedness during an event," said Mark Herrera, IAVM's director of education and a former tactical sergeant. "We've added a customized exercise that will enable participants to explore specific issues, consider the use of available, limited resources, and quickly develop action strategies to manage an unexpected incident involving a terrorist attack or hostility during an event. Through discussion and insight from experienced experts, attendees will gain an appreciation for the complexity of managing a critical incident and how to best prepare for, prevent, respond to, and recover from an incident such as the Paris attacks."
Herrera, Harvey Perriott, and Justice Narvaez will facilitate the exercise and discussion.
Harvey Perriott is the protective security advisor (PSA) for the North Texas District of the U.S. Department of Homeland Security and has served in that role for more than seven years. Prior to joining the PSA program, he served as the staff director for the Office of Infrastructure Protection's Protective Security Coordination Division (PCSD). With more than 25 years' experience in Department of Defense Special Operations, Perriott has been involved either directly or indirectly in several military operations directed at counterterrorism activities. He has extensive experience in performing studies, analyzes, and evaluations in a wide variety of areas, including surveying, mission capability, force strategy, force structure options, and tactics, techniques, and procedures.
Robert "Justice" Narvaez has trained more than 2,500 U.S. law enforcement officers and more than 600 foreign militaries and federal forces. He was a vital member and former trainer for the Deployable Operations Group (D.O.G.) and led anti-terrorism missions including a specialized team in the Commissioning Court in Guantanamo Bay, Cuba, that oversaw movements of five terrorists responsible for the attacks on Sept. 11, 2001. He has trained with and in SWAT tactics for nine years. Throughout his military career, Narvaez has been awarded one Coast Guard Commendation Medal, four Coast Guard Achievement Medals, one Navy Joint Service Achievement Medal, and one Army Achievement Medal for his dedication, knowledge, and professionalism.