The Shaw Conference Centre in Edmonton, Alberta welcomes Serge Belair to the position of executive chef on February 1, 2017. The appointment, announced by venue General Manager Lisanne Lewis, brings one of the rising chefs into the job after Chef Serge received the award of Edmonton's top 40 under 50 in 2015. He is no stranger to the venue, however, after working his way up the ranks since joining in 2005.
"Chef Serge has been a rising star that has proven he has the skillset and leadership to take over the culinary operations of Edmonton's convention centre. His appointment ensures there is a smooth transition and the quality and consistency of meals served at the Shaw Conference Centre continues to be exceptional," Lewis said.
He will replace the retiring Simon Smotkowicz, who departs the facility after 28 years to embark on a new chapter in his career. The footsteps that Belair replaces are huge as his predecessor has won numerous medals as a part of Canada's Olympic Culinary team and has mentored many young chefs throughout the years.
Lewis acknowledged the outgoing chef and his work, noting that he "leaves behind a dedicated team and strong brand."
Chef Serge's impressive resume includes study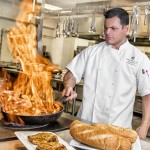 ing at Commission scolaire la Vallee de la Lievre and practical experience at Hotel Clarion Gatineau's Restaurant La Pergola from 1999 to 2005. His rise within Shaw Conference Centre included stints as chef de partie in 2005, sous chef in 2007 and senior sous chef in 2011.
Photo by Curtis Comeau