By R.V. Baugus
Disclaimer: It was during a Zoom meeting with fellow IAVM staffers Amy Fitzpatrick and Greg Wolfe that I met IAVM VenueConnect Keynote Speaker Ann Meyers Drysdale. When it came my turn to do a brief intro so the legendary UCLA, WBL, and broadcasting star could better understand who we are and our roles, the conversation immediately turned to hoops — one of my very true loves for anyone who knows me.
It was difficult to get on to the task at hand, but I was able to (perhaps noting the looks that Amy and Greg were giving me!). Nonetheless, it was a pleasure to "meet" someone I knew very well in following her career. We caught up with each other later by phone for Ann to talk more about her background and what she is looking forward to when she sees IAVM members in Phoenix to hear her presentation.
RV: How about some background, although knowing yours as I do it might be difficult to boil it to a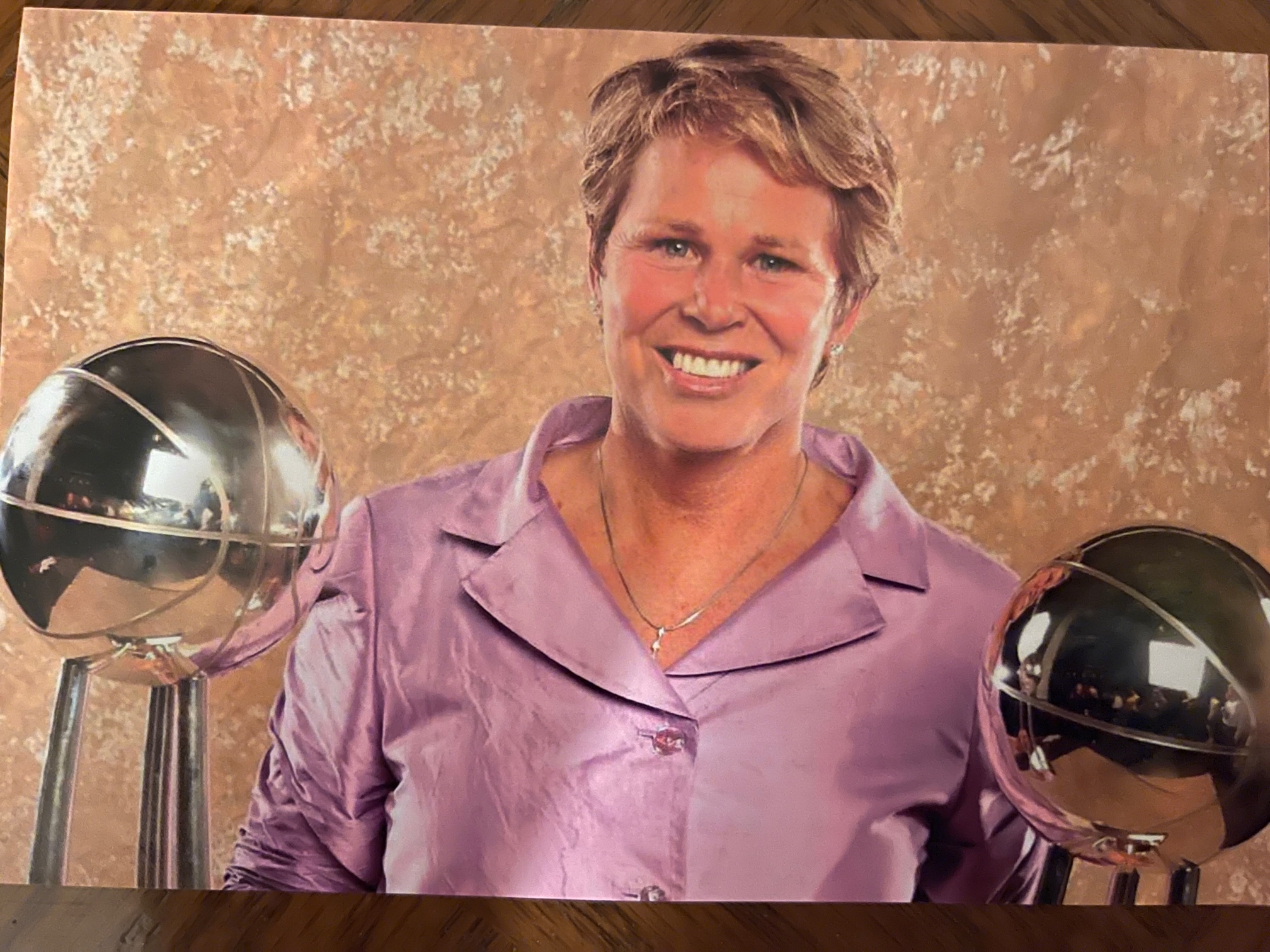 brief sentence or two?
AMD: My dad was captain at Marquette University of the 1945 team and when my parents got married, they moved to San Diego. Basketball was a part of our life, but it wasn't the only thing. I played seven sports in high school. I saw women playing way before Title IX. It's interesting watching the NBA and WNBA … the WNBA is the longest professional league in this country for women but to know there are other sports going on out there. I've just been in the right place at the right time, certainly being the first woman to get a full athletic scholarship at UCLA.
RV: So, what has changed the most over the years regarding the game and how it has grown?
AMD: Obviously, social media has changed a lot. ESPN didn't exist until 1979. Even in life if you look at growing up, we had three television channels. The newsmen were very reputable. Now there are so many different stations and so many different attitudes about life and so forth. I think what I also want to get across … I know Greg was calling the session title Empowering Success. I'm a little uncomfortable with that to tell you the truth because what is success? I'm from the John Wooden school of success. It's in life knowing you did your best to become the person you're capable of becoming. Whether it's working at IAVM or whether it's working in flowers or airlines or cars or standing on a factory line or whatever, you do your best. The success that other people rate you on is finance and also in championships or what you did.
RV: What are you doing these days in Phoenix?
AMD: I joined the Phoenix Mercury and Suns in 2007. I was broadcasting for ESPN and then broadcasting almost 45 years now. I started right when I came out of UCLA. I took some classes at UCLA. Not a lot of women were broadcasting back in the 70s. But in 2007 I was hired to be the GM for the Mercury. We won two WNBA titles and then they asked me to step aside and do broadcasting for the Suns and the Mercury.
RV: Share some thoughts on leadership. You have learned from the best and you are obviously a tremendous leader in your own right.
AMD: When you're out there doing the best you can and supporting your teammates, it's amazing what can be accomplished. It's the same thing with the venues. Everybody is working hard. Like Coach (John) Wooden said, great leaders are listeners. They listen to what is going on. Obviously, they have got to make the decisions whether it's good or bad and certainly as a leader you try and make the decisions that are good for the whole group even if that does not always work. Once decisions are made you've got to go with it.
RV: How about some life lessons that have stuck with you?
AMD: The family I grew up in and my parents and their work ethic sticks with me. How hard my mother raised children being in the house and the things she did for all of us and certainly my father going out and working and so forth. You do your best. You go out and you work hard. You've got to love what you do. Sports is certainly something I've been able to have a career of and something that I love. Not everybody gets to do that. Sometimes when you're not having fun and you're not loving what you're doing you don't work as hard. Then you find things that are wrong and so forth.
RV: What was it like to be part of the Women's Basketball League era in the 1970's?
AMD: It's funny because when they call us trailblazers it's only because that was the beginning of Title IX and some TV. So, we did get some exposure TV-wise. To me, trailblazers are women that came way before me. People talk about Carol Blazejowski, Nancy Lieberman, Cheryl Miller, Annette Woodard, myself, because we were on TV a little bit.
RV: It is preview time to share some about what you plan to share with the audience at VenueConnect.
AMD: Being in a team sport, adversity, being able to adapt to things that happen in our life and how you respond to it. Are you positive or are you negative? Does it take you awhile to adjust to change? My days at UCLA and the influence of John Wooden and Billie Moore. My brother David. And then my next family. Meeting Don and starting a family with him and the broadcasting career. You can't control what others are going to decide that are in a position of decision making. You can only control what you can control. It's about relationships.
RV: Any takeaways for the audience that they can take back to their venue and implement?
AMD: I think you have got to believe in your team. Certainly, you're dealing with different cultures and with different beliefs and religions and so forth. That all plays in to whether it's gender, religion, race, age, and I think support is huge. That's also very difficult when people are having a tough time changing. Women need to support women. I think diversity is huge, but I also know in different cultures that women still are behind the scenes and that's not in essence about the venue but in life. You're dealing with a worldwide culture whether it's in this country or any other country about women. I think you have to have diversity in any kind of business because men do think differently than women. When you have the support of where a woman is coming from on how something has to be done or accomplished maybe it can be done easier … you think, oh yea, they're coming at it from a different point of view. You have to be compassionate about that point of view.